430 knives handed into Wiltshire Police
2 October 2018, 16:20 | Updated: 2 October 2018, 16:26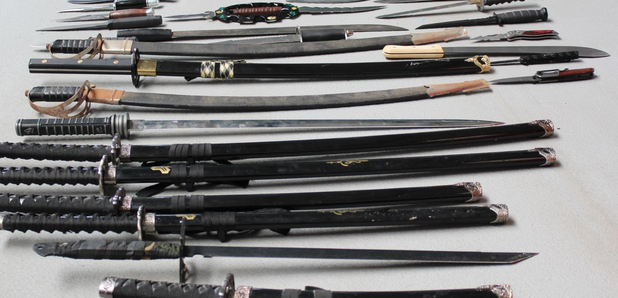 430 knives have been handed in as part of a knife amnesty run by Wiltshire Police.
Special bins were set up at Police stations across the county giving people the chance to get rid of unwanted weapons with no questions asked.
The campaign has the backing of the mother of Jordan Taylor who died after being stabbed in Trowbridge in March 2017.
Sgt David Tippetts, who lead the campaign, said: "This has been a major success with a total of 430 knives handed in, from large machetes and swords to small kitchen knives. Every weapon that has ended up in one of our amnesty bins is one less weapon out there to cause harm.
"I'm not surprised by the number of knives handed in but I am surprised by some of the weapons given to us - especially some of the more fierce looking and larger ones.
"Op Sceptre has helped removed some very dangerous weapons off the streets of Wiltshire but it has also demonstrated the link between drugs and weapons; of course, not all knife crime is linked to drugs but it is often a common denominator.
"Of course, knife crime does take place in Wiltshire but not to the level like in other parts of the country - Wiltshire remains a comparatively safe county.
"However, we are never complacent and we will respond to any intelligence and information given to us by the public, by any community that knife crime can affect.
"If you have any information that can help us please call 101 or contact us anonymously via Crimestoppers on 0800 555 111."