More Volunteers Join Wiltshire's Specials
16 January 2017, 16:51 | Updated: 16 January 2017, 17:06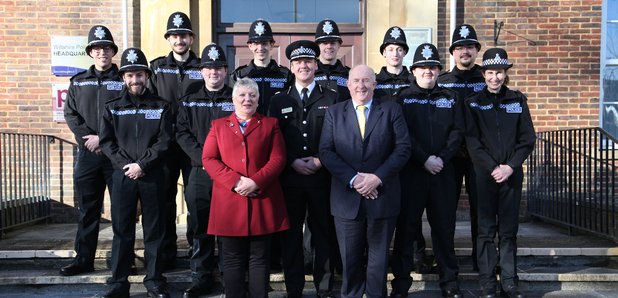 Wiltshire Police has welcomed the first group of Specials under a plan to increase the Special Constabulary to 500 officers.
They have been welcomed at a special ceremony by Police and Crime Commissioner Angus Macpherson and Assistant Chief Constable Paul Mills, after completing 12 weeks intensive training.
Special Constables are volunteers with Wiltshire Police, and when on duty have the same powers as regular police officers.
The group of ten will now join Community Policing Teams across the county.
Mr Macpherson said: ''I am very pleased to welcome these volunteers, the first of our new cohort of Special Constables to the Force. The public play a key role in policing our communities and Specials bring with them a variety of skills and experience from business and industry. I look forward to these officers becoming an integral part of Wiltshire Police, supporting the Force at a time when we are addressing higher demand and a greater breadth of crime.
''I want to express my thanks to all Special Constables who volunteer their time with Wiltshire Police and their family and employers who offer them support to do this.''
Assistant Chief Constable Paul Mills said: ''I am delighted to welcome another ten Special Constables to the Force.
''We are committed over the next 18 months to recruiting 500 Special Constables to the Force, working alongside regular officers to deliver policing within the county.
''Each of our specials bring with them extensive experience and form an essential role in volunteering to support their local communities.
''I would encourage anyone who is interested in following in their footsteps to contact us, we would be happy to discuss the exciting opportunities that exist to be part of policing in the county.''
Recruitment for the Special Constabulary is open as the Force move closer to the goal of 500 officers.
Find out more information about the Special Constabulary here.
Inspector Kate Priest project lead for the development project said: ''It's fantastic to see that the first of our new cohort of Special Constables have been sworn in to Wiltshire Police.
''Becoming a warranted police officer, with the powers as regular officers is a responsible and demanding role. I have every confidence these new officers will now develop operational policing skills and display the values and behaviours the public of Wiltshire expect from their local officers.
''I wish the new officers well in their new role and look forward to welcoming and training many more volunteer constables in the coming months.''