Novichok: Latest update from police
9 July 2018, 14:22 | Updated: 9 July 2018, 14:44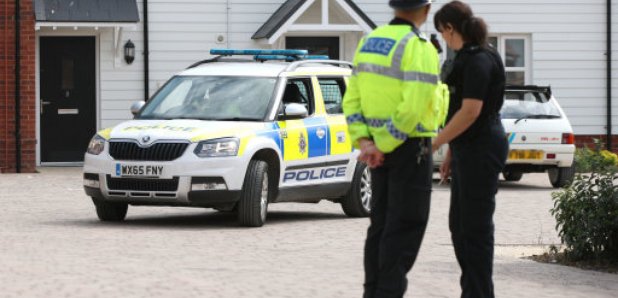 A murder investigation in underway after woman, exposed to Novichok, died in hospital.
Dawn Sturgess, who was 44, died in hospital last night, her partner Charlie Rowley remains critically ill
Speaking at New Scotland Yard on Monday, 9 July, Assistant Commissioner Specialist Operations Neil Basu said:
"Good afternoon, I am here today to update you about the ongoing police investigation into the incident in Amesbury and Salisbury.
"As you are all sadly aware, we have now launched a murder investigation after learning the devastating news that Dawn Sturgess died in hospital at 8:26pm last night.
"It is both shocking and utterly appalling that a British citizen has died having being exposed to a Novichok nerve agent.
"But make no mistake, we're determined to find out how Dawn and her partner, Charlie Rowley, came into contact with such a deadly substance; and we will do everything we possibly can to bring those responsible to justice.
"Our immediate thoughts and prayers are with Dawn's family as they come to terms with the loss of a loved-one in such unimaginable and cruel circumstances.
"Dawn was just 44 years old and from Durrington, Wiltshire. She leaves behind two grown-up sons; aged 19 and 23; an 11-year-old daughter; and her mother and father.
"Our thoughts also remain with Dawn's partner, 45-year-old Charlie Rowley, who was also exposed to the nerve agent and remains critically ill in hospital.
"Both Dawn and Charlie's families, understandably, have asked for the media to respect their privacy at this very difficult time.
"I would like to thank all of the extremely brave and dedicated hospital and medical staff who once again worked tirelessly trying to save Dawn and who continue to care for Charlie.
"This latest horrendous turn of events has only served to strengthen the resolve of our investigation team as we work to identify those responsible for this outrageous, reckless and barbaric act.
"The investigation is being led by detectives from the UK's Counter Terrorism Policing Network.
"At this stage, they are unable to say whether or not the nerve agent found in this incident is linked to the attack on Sergei and Yulia Skripal. However, this remains our main line of enquiry.
"The investigation must be led by the evidence available and the facts alone. Our focus and priority at this time is to identify and locate any container that we believe may be the source of the contamination.
"In the four months since the Skripals and Nick Bailey were poisoned, no other people besides Dawn and Charlie have presented with symptoms.
"Their reaction was so severe, it resulted in Dawn's death and Charlie being critically ill. This means that they must have got a high dose and our hypothesis is that they must have handled a container we are now seeking.
"Over the weekend, detailed searches have continued at a number of locations in Amesbury and Salisbury.
"This activity has centred on Dawn's address at John Baker House, Salisbury; Charlie's address in Muggleton Road, Amesbury; and Queen Elizabeth Gardens in Salisbury.
"Police cordons are in place at a number of locations in the area and are likely to remain in place for a considerable period of time.
"This is for the public's safety as well as to allow officers access to these areas in order to gather crucial evidence for the investigation.
"Detectives have pieced together a detailed timeline which shows the movements of both Dawn and Charlie in the period before they fell ill on Saturday 30 June. This is crucial to our understanding.
"So far our understanding is that on Friday, 29 June, at around 12:20pm, they were both together at John Baker House in Salisbury.
"They then left and visited Salisbury before going to the Queen Elizabeth Gardens that afternoon.
"They both returned to John Baker House at around 4:20pm before catching a bus to Amesbury just after 10pm that night.
"In the absence of any information to the contrary, we believe that they then both spent the night at Charlie's address on Muggleton Road.
"The next morning, at 10:15 on Saturday, 30 June, the South Western Ambulance Service was called to Charlie's address, where Dawn had been taken ill. Charlie was present with her at that time and Dawn was subsequently taken to hospital.
"At around midday on Saturday, Charlie visited Boots the chemist on Stonehenge Walk in Amesbury and he returned to his house around half an hour later.
"At 1:45pm he went to the Amesbury Baptist Centre on Butterfield Drive and again returned home at around 3pm.
"Just over three hours later, at 6.20pm, Charlie was also taken ill. The ambulance service was called back to his address and he too was taken to hospital.
"As I've said before, there is no evidence that either Dawn or Charlie visited any of the sites that were decontaminated following the attempted murders of Sergei and Yulia Skripal.
"As the investigation progresses, we continue to build on our understanding of their movements, which is key to us establishing when and where Dawn and Charlie were contaminated.
"As part of this, detectives had identified a red Ford Transit van that Charlie travelled in as a passenger on Saturday, prior to falling ill.
"Yesterday, the military assisted us with transporting the van from a location in Amesbury to the Defence, Science and Technology Laboratory at Porton Down. There scientists will carry out tests on the vehicle.
"This has been done both as a precautionary measure and to assist investigators in piecing together the facts behind this dreadful incident.
"Three other men, who were also in the van that day, have been identified and contacted by police. None of them are showing any signs of having been exposed to the nerve agent or feeling unwell, and are being screened as a precaution.
"I am sure that you will appreciate that the investigation is painstaking, meticulous and complex, but I can assure you that we are doing absolutely everything we can to gather all available evidence.
"Officers have already identified and spoken to a number of people who we know were with Dawn and Charlie before they became ill.
"However, if there is anyone who saw them or met with them who we haven't already spoken to, I would urge them to contact police on 0800 789 321. Their evidence is vital for both public safety and for the investigation.
"Clearly, everyone Dawn and Charlie were in contact with prior to them falling ill is a focus for our inquiry. The more we know about their exact movements, the better, so please contact.
"We continue to work extremely closely with public health and scientific experts to continually monitor and assess the ongoing levels of risk to the public as the investigation progresses.
"Whilst I simply can't offer guarantees, last night Public Health England emphasised that the risk to the general public at this time remains low.
"I do, however, recognise there will still be people in the local area with concerns, but there is detailed advice which can be found on the Public Health England website. Part of this advice is not to pick up any strange items such as needles, syringes or unusual containers.
"It's also important to note that whilst 21 other people have presented with concerns they have all been screened and given the all-clear.
"I would like to thank the public for their ongoing support and patience while this important work continues in Salisbury and Amesbury. The people of Wiltshire have shown tremendous stoicism.
"Wiltshire Police has established a helpline which can offer further advice, call 0800 092 0410."