Novichok: Town path in Salisbury reopens
31 July 2018, 14:41 | Updated: 31 July 2018, 14:46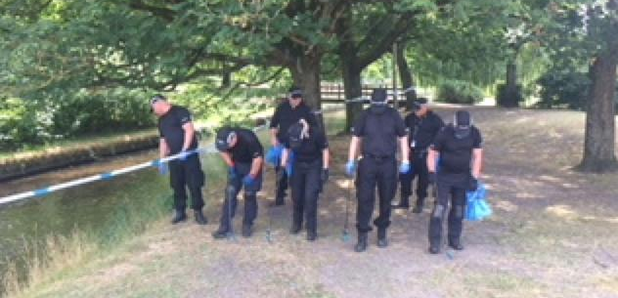 The town path in Salisbury has been reopened to the public, after being closed as part of the Novichok investigation.
But the cordon at Queen Elizabeth Gardens remain in place as investigation work continues.
The cordon was put in place earlier this month after it was confirmed Dawn Sturgess and Charlie Rowley had been there before falling ill.
Here's the latest from Wiltshire Police:
As a highly precautionary measure the park is subject of an extensive search, to firstly ensure that there is nothing of investigative relevance at that location and secondly to provide confidence to the public that it is safe to use the area when it is reopened.
The activity to date has included meticulous and methodical fingertip searches of the areas of highest congregation including the children's playpark, the garden area, around bins, benches and signs.
Other areas of the park have been subject of systematic searches by officers with a maximum of a one metre gap between them.
To date, no objects have been located which have been deemed as significant by the investigation team.
The police dive team from Devon and Cornwall Police also conducted a thorough search of the shallow stream adjacent to the children's play park and were able to remove a lot of broken glass and other discarded items. They also conducted searches along the banks of the River Nadder and River Avon that flow through the gardens within the cordon, collecting discarded objects and litter from the river bank.
Further to a review of the search to date, it has been concluded that it is now safe to release the town path part of the cordon back to public access.
Deputy Chief Constable Paul Mills said: "As I promised at the two public meetings last week, I want to keep the public as updated as possible with regards to the progress of the search work at Queen Elizabeth Gardens.
"I am pleased to announce that further to a review of the search to date, I have today authorised the reduction of the overall cordon to allow the town path area of the cordon to return back to public use. I know the impact of the cordon has impacted significantly upon the local community and I would like to thank the public for their patience during this time.
"Although I am unable to give a definitive time frame for the wider search to conclude, please be reassured that work is progressing with pace at the location and we are committed to keeping the public updated.
"As ever the priority of all agencies is public safety and we wish to be in a position where we can return the park to the public, such that they can confidently return to the area when it is reopened.
"I would like to once again reiterate the Public Health England advice that the risk to the public remains low.
"We understand the impact cordons of this size can have on a community and we would like to thank everyone for their patience while this complex investigation is progressed."