Salisbury Recovery Going Well This Christmas
17 December 2018, 18:12 | Updated: 17 December 2018, 18:22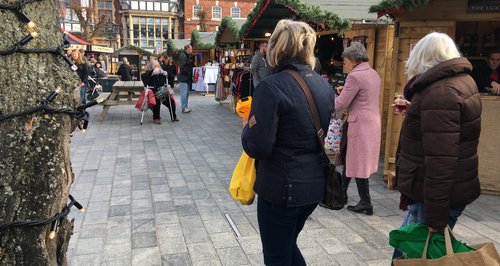 Traders, tourists and politicians all say that Salisbury is well on the way to a full recovery following the novichok poisonings.
Since Sergei and Yulia Skripal were found unconcious in March, the city has seen a marked drop in visitors, with figures released by Wiltshire Council supporting that.
At one stage overall visitor numbers were 16% lower than the year before and the latest figures suggest footfall is still 12% lower than it should be, but councillors are yet to be told how the Christmas season has changed that.
Councillor Pauline Church, Cabinet Member for Economic Development and South Wiltshire Recovery believes figures will have improved, especially thanks to the Christmas market.
She said: "It's brilliant, I'm really pleased with how the Christmas market has panned out. We've got lots of support, lots of people coming to shop and to visit. Certainly the traders have had an amazing year. Some of the food traders have had their best year in the six or seven years it has been running."
Traders at the market agree, with a number of businesses saying they've found it to be busier than previous years.
Sharon Davis from Daisy Accents has a chalet at the market and said: "Footfall has been amazing and I'm so pleased because Salisbury has suffered this year, and it's just so nice to see everyone supporting it. It's probably been the busiest than I've seen it and it's been really good for us."
There is also support for Salisbury from outside of the city.
Richard Stephens from Peter Carol Coaches has been running sold-out trips from Bristol to Salisbury this December.
He said: "It's fair to say we did see a slower start to sales for these trips this year, but actually the encouraging thing is that numbers have been very good.
"People need to feel safe and confident that the places that they're visiting are safe to visit and the work that the authorities in Salisbury have been doing has been absolutely excellent and has really given us a lot of support and help in promoting Salisbury."
Passengers on the trips agreed, saying they didn't worry about visiting Salisbury as they'd put the events of this year behind them, and had faith in officials who had made sure the city was safe.
While this feedback is all positive, officials from Wiltshire Council acknowledge that there is more work to be done.
Councillor Church said: "We're looking more strategically across South Wiltshire, looking at how to regenerate and kick-start the economy again. There's at least a two year project team in place to move that forward and to work with stake holders in the city."
To date the government has also pledged 7.5 million pounds towards the recovery effort, with that funding going to local authorities, businesses and the tourism sector.