Stop Blocking Swindon's Sewers
20 October 2015, 05:00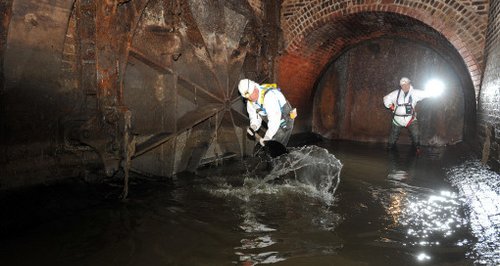 Thames Water says it's engineers have already had to clear more than double the number of blockages from Swindon's sewers, than they did in the whole of 2010.
The water company wants householders to think twice about what they flush away, as even some sanitary products that claim to be 'flushable' are actually leading to a sticky situation underground.

By the end of August this year engineers had cleared around 750 blockages from Swindon's sewers in 2015, with a total of more than 4,000 blockages in the last five years.

The blockages have been a combination of fat, oil and grease and things like wet wipes, nappies, sanitary products and cotton buds which don't break down in the sewers.

A spokesman for Thames Water revealed that one of the biggest issues its Swindon engineers were coming up against in the pipework was wet wipes.

''Although many of them say "flushable" on the packaging it doesn't mean they break down once flushed," she said.

''They might disappear from the toilet pan but once they get into the sewers they stay intact unlike toilet paper which breaks down straight away. All types of wipes are a problem so it's baby wipes, surface cleaning wipes, make up remover wipes, personal hygiene wipes and any others you can think of as they're made of a type of plastic not paper.''

''In the last five years there have been over 400 instances of sewage flooding in Swindon with half of them being in the SN2 and SN3 postcodes so these are our main hotspots.

''We will send reminders to customers who have repeat problems explaining what they shouldn't put down the sink and toilet and will sometimes visit the worst offenders in person and we run awareness campaigns each Christmas to remind people not to pour the dregs of the Turkey roast down the sink"