Strike: Firefighters Walk Out On New Year's Eve
30 December 2013, 11:53 | Updated: 30 December 2013, 12:01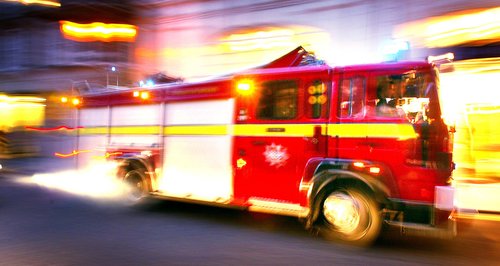 Wiltshire Fire & Rescue Service is again reminding people to 'take extra care' when firefighters go out on strike on New Year's Eve.
As part of a national dispute between the Fire Brigades' Union and the Government over pension reforms, firefighters will be walking out for six hours from 6.30pm on 31 December.

A further strike has been called for two hours from 6.30am on the morning of 3 January.

During this time, the Fire & Rescue Service will be providing a reduced emergency response, although cover is being maintained across the county. Chief Fire Officer Simon Routh-Jones said:
"New Year's Eve is a time when people want to celebrate, so we would urge everyone to have a good time but to also take extra care
when they're out and about. Because of the strike, we will have reduced resources available but we are ensuring that we maintain cover to the best of our ability. People should still call 999 if they have an emergency – we will attend, but it may take us a little longer than usual to arrive."

The following top tips will help you stay safe:

Make sure you have smoke alarms fitted and test them regularly.

If you're out for the night, take five minutes to unplug unused electrical items and any fairy lights, and make sure no sockets are overloaded. Also close all internal doors – if there is a fire, this will help to contain the damage.

Make these checks before you go to bed if you stay in for the night – and make sure you and anyone else in the property knows how to get out should something happen.

Don't leave cooking unattended, especially if you've been drinking or are on medication. If you've been drinking, it's far safer to eat out or get a takeaway than to cook while under the influence of alcohol.

If you smoke, dispose of cigarettes carefully, and don't smoke in bed. Ideally, smoke outside as this reduces the risk of fire. Make sure matches and lighters are kept away from children.
Be careful if you decide to light candles or tea lights – left unattended, these can easily lead to fires starting. Be particularly careful not to place candles near to Christmas decorations, cards or wrapping paper.
Businesses should check their fire risk assessments and ensure that any staff members working on the evening of New Year's Eve are fully briefed on what to do if an emergency happens.

If you're out on the roads, drive to the speed limit and to the conditions – and don't drink and drive.

Should you have a fire, get out, stay out and call 999 – the Fire & Rescue Service will respond.

For further safety advice, visit www.wiltsfire.gov.uk