Swindon: 30 Sites Put Forward For Solar Farms
4 February 2015, 14:22 | Updated: 4 February 2015, 14:25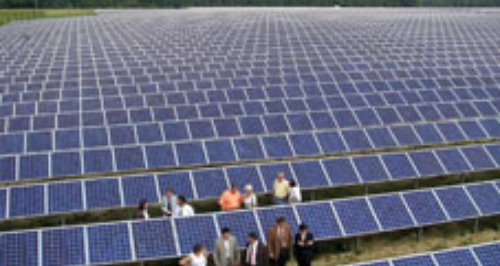 Thirty sites in Swindon have been put forward as potential solar farms.
This after the borough council asked developers, landowners, farmers and the wider community to identify where they could be built.
This is the latest stage in Swindon Borough Council's aim to be the first in the UK to use innovative planning measures, known as Local Development Orders (LDOs), to speed up the planning process for low carbon energy generation.
On Tuesday 10th February the council's planning committee will decide whether to include the proposed solar sites in a Low Carbon LDO, which will cover solar arrays and other forms of alternative energy.
If approved there would be a full consultation with residents on any sites that are shortlisted for inclusion, and further consideration by the planning committee, before any are finally approved.
The 30 sites are:
Horpit, near Wanborough M4 solar panel noise barrier, A419 solar panel noise barrier Former landfill land at Barnfield Land at Mannington Depot Land within Chapel Farm landfill site Inlands Farm, Wanborough Common Farm, Wroughton Newburn Sidings, former railway land west of Dean Street, Rodbourne Multi-storey car parks: Brunel North, Brunel West, Fleming Way, The Parade, Spring Gardens
Other car parks: Northern Orbital Centre, West Swindon Centre/Shaw Ridge, Sainsburys/Homebase Bridgemead, Morrisons Dorcan Way, Morrisons Haydon Wick, Tesco Ocotal Way, Greenbridge Retail and Leisure Park, Mannington Retail Park, B&Q Barnfield Road, Great Western Hospital, Police HQ Gablecross Beech Farm, Stanton Fitzwarren Land north of Lower Blunsdon Crouch Farm, Highworth Swindon Land north of Wroughton.
The solar panels at car parks would potentially be deliverable by using raised canopies, which vehicles park underneath.
Cllr Dale Heenan, Swindon Borough Council cabinet member for Strategic Planning, Sustainability and Transport, said: "We have a strategy in Swindon to be a low carbon economy and at least meet the national target of 15% of our energy coming from low carbon sources by 2020, which is why this report has been prepared for the members of the Planning Committee to consider."
Find out more here.