Swindon: Groundbreaking Cancer Treatment Starts At GWH
12 March 2015, 09:27 | Updated: 12 March 2015, 09:32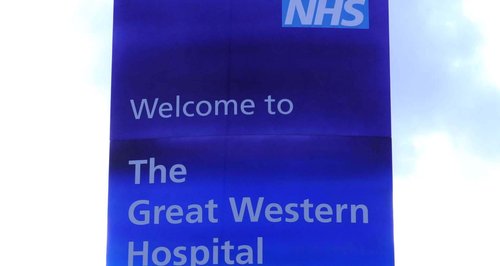 A groundbreaking cancer treatment begins at the Great Western Hospital this week.
The GWH is the first NHS hospital in the south west to begin treating breast cancer patients with new intra-operative radiotherapy.
Unlike traditional methods of radiotherapy, this new treatment works by giving patients a single dose of radiotherapy while they are still in the operating theatre. This means that following surgery patients will not have to travel for weeks on end to either Bath or Oxford to receive radiotherapy.
Other advantages include patients experiencing less pain and sensitivity, a reduced risk of infection and quicker recovery times.
Lynn Ashman, of Malmesbury, and Irene Helme, of Devizes, will be among the first breast cancer patients to receive the treatment at GWH.
Lynn said: "I am so delighted that I am able to have this treatment. I've read a lot about it and I know that it will make such a massive difference to me and to women just like me.
"Travelling for miles and miles every day for up to four weeks to receive radiotherapy is a massive ordeal. There are not many people who can just take it in their stride. I'm so pleased that I will not have to endure that strain."
Irene said: "I am very proud and extremely honoured to be one of the first people to have this treatment at GWH.
"To know that following my operation I will not be having week and weeks of radiotherapy is just wonderful. I hope that more and more women in the future will be able to benefit from this treatment."
Nathan Coombs, Consultant Breast Surgeon, said: "This is a fantastic moment in the history of GWH and I am incredibly proud to have been part of the team involved in bringing intra-operative radiotherapy to Swindon.
"I know from experience that following surgery women face an uncomfortable wait of several weeks before they can begin radiotherapy. During this time, it is only natural that patients worry about tumour development.
"It feels amazing to be able to say that we now have the ability to significantly reduce that anxiety. Any treatment that can make the cancer journey a little bit easier is a wonderful thing."
Jennifer Green, Head of Fundraising, thanked everybody who helped raise the money to fund the new treatment. She said: "It costs £150,000 to offer this treatment for one year. We originally set out to raise £75,000, with the other £75,000 being provided upfront by Brighter Futures.
"The people of Swindon and Wiltshire smashed the target and, at the last count, we had raised around £110,000. This is fantastic as it means that more of the cost is covered by the community contribution and that Brighter Futures can invest more funds into other worthy projects."