Swindon: Free Bike Repair Kits
12 February 2015, 15:35 | Updated: 12 February 2015, 15:44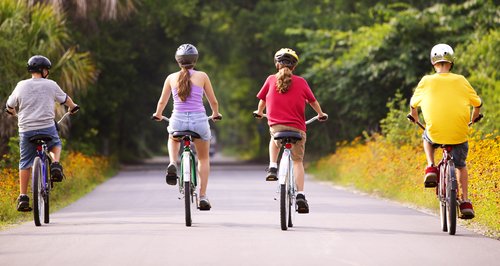 Cyclists in Swindon don't need to worry about a dreaded puncture anymore - cycling charity SUSTRANS are putting free emergency bike repair kits around the town for anyone who suffers a bike breakdown.
The kits are being put in 6 community venues across Swindon to help the growing number of cyclists to deal with any unexpected problems on the road; they will be at North, West and Central libraries, Grange Community Leisure Centre in Stratton, Pinetrees Community Centre and Dorcan Recreation Complex.

The kits will include essentials such as a bicycle pump, multi tool, puncture repair kits and other useful pieces to keep your bike running smoothly, and will be free for the public to use during the opening hours of each venue.

Amy Martin, Sustrans Project Coordinator, said:

"The emergency bike repair kits are a great initiative to keep people cycling even when the unexpected happens such as a tyre puncture when out and about. The launch of the kits is a real step towards making Swindon a more cycle-friendly town.".

To launch the kits there will also be free, family-friendly events to help Swindonians get back into cycling, just in time for spring.

The events will run from 11am - 2pm at the Central Library on Monday 16th February, Grange Community Leisure Centre on Tuesday 17th February, West Swindon Library on Wednesday 18th February and North Swindon Library Saturday 21st February 11am-4pm. Cyclists will have the chance to get their bike security marked and have a free bike health check-up by a mechanic to ensure that everything is in order.

There will also be the opportunity to get some basic bike maintenance tips as well as a chance to find out more about the emergency bike repair kits and cycling in Swindon.