The Great Western Hospital Is Baby Friendly
3 April 2018, 15:58 | Updated: 3 April 2018, 16:06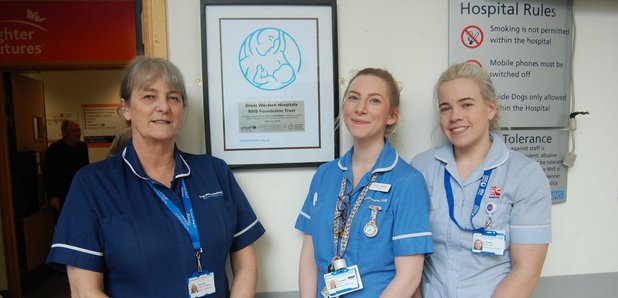 The Great Western Hospital has again been named as a baby friendly hospital.
The hospital was accredited by the UNICEF Baby Friendly Initiative, which aims to improve public services who support parent and child relationships.
It is about helping babies to have closeness with parents, especially in the early days as it is vital for their long-term development.
Cathy Gale, Infant Feeding Specialist Midwife, said they are are very pleased: "our maternity and neonatal teams have been working hard to get re-accredited and it involved looking at several departments input into the journey through hospital for new parents."
She continued: "There is a strong evidence base for our care standards for new mothers and babies. One example is that all mothers, regardless of type of birth or chosen feeding method, are enabled to have at least one hour of uninterrupted skin-to-skin contact for at least an hour or until the baby has had the first feed. This encourages a calm and unhurried golden hour for the new family to get to know each other."
Through the staged accreditation programme, health professionals are to support all mothers with their feeding and help parents to build a close and loving relationship with their baby.
All maternity and neonatal staff at the hospital have training each year to keep up to date with any new knowledge and research so their practice is up to scratch. GWH also aims to promote and support breastfeeding through the national Breastfeeding Welcome Scheme and has a dedicated room for mothers to breastfeed including those visiting the Women's Outpatients department and staff who return to work after having a baby.
The trust is now working on achieving a separate Baby Friendly accreditation for the Special Care Baby Unit. The accreditation lasts 18 months before another assessment and teams across the hospital have worked hard to get it awarded again.