Wiltshire: Abnormal Load Warning
5 March 2015, 09:25 | Updated: 5 March 2015, 09:27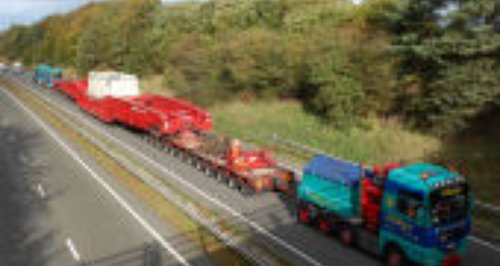 Drivers are being warned about an abnormal load hitting Wiltshire's roads on Sunday
The specialised load transporter will leave the M4 Membury Services (Westbound) at around 7am, being escorted by Wiltshire Police.
The transporter is carrying a 97 tonne transformer to a National Grid substation near Melksham, as part of the work going on the electrify the railways.
It's load will measure 3.90 metres (12ft-10ins) wide, 4.75 m (15ft-07ins) high with an overall length of 35.60 m (117 ft) and gross weight of 180 tonnes.
Due to the size of this transporter it will be slow moving and will have the potential to create congestion. Wherever possible disruption will be kept to a minimum but hauliers and motorists are asked to please be patient if they come across this load.
Anyone travelling over this period to catch a flight or meet appointments should allow sufficient additional time.
From the M4 it will leave at junction 18 and travels South on the A46, before travelling East on the A420, then South on the A350, turning right on the A4 to Corsham, it then turns left on the B3109, before turning left again on the A365, passing through Shaw/Atworth before turning left on the B3353, before turning right into Westlands Lane.