Wiltshire: Air Ambulance Could Be On The Move
11 February 2014, 11:27 | Updated: 11 February 2014, 11:32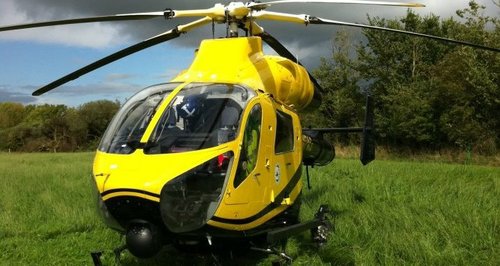 The Trustees of Wiltshire Air Ambulance have launched a full scale search for a new base location for the county's aeromedical helicopter.
The long standing partnership with Wiltshire Police finishes at the end of the year because the constabulary will be joining the National Police Air Service, based at Filton near Bristol.
Charity Chief Executive David Philpott says: "For more than twenty years we have enjoyed sharing the hangar behind Police HQ in Devizes with our law enforcement colleagues, but things move on and times change. We are still in discussions with the Police and Crime Commissioner to see if we can get an extension on our tenure, but issues of health, safety and possible security risks means that this is looking increasingly unlikely. It is against that background that the charity board has asked me to identify a suitable location to build an airbase, somewhere in Central Wiltshire".
The charity have set up a Project Team and this group has already identified up to a dozen commercial, military or private airfields or landing strips within 7 nautical miles of Devizes, but they are keen to stress that they are not limiting the search to aviation-type properties.
"Other Air Ambulance charities have located their bases on industrial estates or farmland, so subject to the appropriate planning permissions, we are ruling nothing out at this stage" continued Mr. Philpott.
"Our vision is to have all of our operational and fundraising functions under one roof, with training and visitor facilities so that we can welcome ever increasing numbers of school and community groups that we count among our supporters".
Anyone with property or land that they think might be suitable can contact the charity directly by emailing info@wiltshireairambulance.co.uk