Swindon: NHS Staff Say Respect us
18 August 2014, 09:57 | Updated: 18 August 2014, 10:16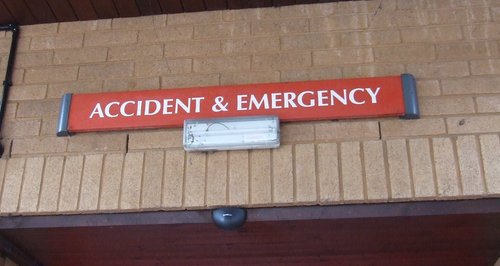 Great Western Hospitals NHS Foundation Trust is clamping down on assaults against staff with a new campaign reminding people that any form of verbal or physical abuse will not be tolerated.
The Respect Us campaign reinforces the message that abusive patients face tough penalties including police prosecution and the refusal of treatment.
The campaign also aims to encourage more staff to report verbal or physical abuse, including rude, intimidating or antisocial behaviour.
Although 232 staff reported being assaulted between April 2013 and March this year, the real figure is thought to be much greater as half of staff who responded to the most recent NHS Staff Survey said they did not report the last time they experienced abuse at work.
The survey also revealed that in the last year a third of staff who responded had experienced abuse at work from patients, relatives or other members of the public.
Staff at the Great Western Hospital have the full support of an in-house security team on hand 24/7 and staff working in the community call 999 if they need support. Personal attack alarms are also carried by some staff, such as those working in the emergency department, which can be sounded to alert others to an escalating situation.
Dr Stephen Haig, Emergency Department consultant, at the Great Western Hospital has been swung at, pinned to a wall and has even had an instrument trolley thrown at him by patients.
He said: "When something like that happens, it just makes you and the rest of the team feel really awful. It makes this job so much more difficult than it already is. Our staff come to expect that they will be assaulted at some point, which is fundamentally wrong.
"As doctors and nurses, we are here to help people who are sick and injured and it's completely unacceptable when the very people we are trying to help are rude, aggressive or violent. It's not only upsetting for staff, but can be distressing for other patients and cause delays."
Roger Ringham, Security Management Specialist for the Trust, said: "Abuse of NHS staff is completely wrong and unacceptable. Apart from the immediate impact on the member of staff, the experience or threat of aggression or violence causes stress and sickness absence, lowers morale and drives hardworking and talented healthcare professionals out of the NHS at a time of serious staff shortages.
"Sometimes staff experience assaults which are medically related, but a large number are down to unacceptable behaviour. Patients who continue to be abusive despite a warning can be refused treatment and will be referred back to their GP who will need to find them treatment elsewhere.
"This campaign is all about protecting our NHS staff. They are here for us 365 days a year, caring for us when we are at our most vulnerable and when we need them most."
Further information will be available from the Trust's Facebook and Twitter accounts. Show your support by using #Respect