Wiltshire Police Being Investigated Over Handling Of Sir Edward Heath Allegations
3 August 2015, 13:02 | Updated: 3 August 2015, 13:36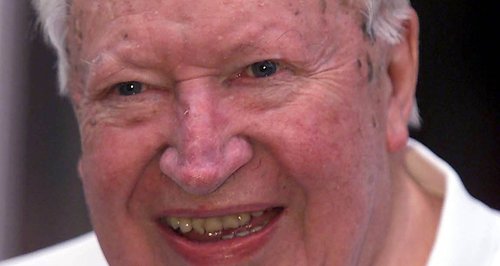 Wiltshire Police's handling of a child sex abuse claim involving former Prime Minister Sir Edward Heath is to be investigated by watchdogs.
It's after allegations made by a retired senior officer were referred to the Independent Police Complaints Commission (IPCC).

An IPCC spokesman said it is to investigate "allegations concerning Wiltshire Police's handling of an alleged claim of child sexual abuse made in the 1990s''.

He added: "It is alleged that a criminal prosecution was not pursued, when a person threatened to expose that Sir Edward Heath may have been involved in offences concerning children. In addition to this allegation, the IPCC will examine whether Wiltshire Police subsequently took any steps to investigate these claims.''
Wiltshire Police have released a statement saying:
"Following the announcement today regarding an independent investigation by the IPCC into allegations concerning how Wiltshire Police handled an alleged claim of child sex abuse made in the 1990's, we are carrying out enquiries to identify if there are any witnesses or victims who support the allegations of child sex abuse.
On becoming aware of the information, Wiltshire Police informed the IPCC and later made a mandatory referral. The IPCC investigation will specifically consider how the Force responded to allegations when they were received in the 1990's.
Sir Edward Heath has been named in relation to offences concerning children. He lived in Salisbury for many years and we would like to hear from anyone who has any relevant information that may assist us in our enquiries or anyone who believes they may have been a victim.
We are working closely with the NSPCC to ensure that any victims are appropriately supported. They provide trained helpline counsellors to listen and provide assistance. We take all reports of child abuse, either current or that occurred in the past very seriously. Victims will receive support throughout any investigation and associated judicial process.
If there is evidence of offences having been committed we will ensure that , if possible, those responsible are held to account through a thorough and detailed investigation. This includes any other parties who are identified as having been involved in child sex abuse.
Some people may never have spoken out about the abuse they have suffered but we would urge them to please contact us and to not suffer in silence.

Please call the NSPCC on 0808 800 5000 or email help@nspcc.org.uk as they have dedicated staff in place to deal with victims or if you have information that may help police please call us via 101."

Chief Executive of the NSPCC, Peter Wanless said:

"It's important that people who believe they have been victims of abuse have the confidence to speak out knowing that their voices will be listened to.

Whether abuse happened in the past, or is occurring today, whether those being accused are authority figures or not, allegations of crimes against children must be investigated thoroughly.

While some people wait years before speaking out, we would urge them to act quickly so they can get help as soon as possible. Our trained helpline counsellors are always on duty round the clock to listen and provide assistance."
Wiltshire's Police and Crime Commissioner, Angus MacPherson, says:
"Wiltshire Police referred the allegations to the Independent Police Complaints Commission, and advised my office of the referral.
The progress of this investigation has been monitored by my office at every stage and I am satisfied that the necessary momentum and engagement with the IPCC has been maintained by Wiltshire Police since the information was received.
It is important that the IPCC investigation is given full co-operation. I will be watching closely to see if any evidence of corruption or poor practice is uncovered.
My priority as Commissioner is to put the interests of victims at the heart of everything we do, as well as holding the Force to account for its performance.
I would like to encourage any victims, or anyone with information which could help the investigation, to have the confidence and courage to come forward.
We have often seen from high profile national cases that victims, who have not spoken of their abuse for many years, find their voice and speak out. I want any victims of child sex abuse, whether current or historic, to know they can have confidence in the service they will receive from Wiltshire Police.
I'm pleased that the NSPCC have experienced advisors standing by to offer support to anyone for whom news of this investigation has rekindled troubling memories."