It's Hop Skip & Jump For A Huge Grant!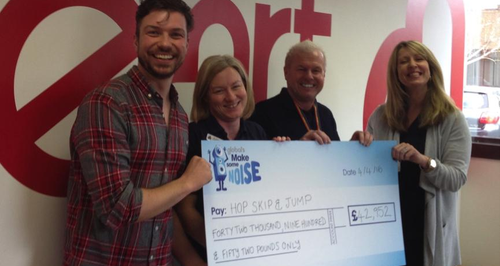 Heart Breakfast presenters Ben & Mel surprised local charity Hop, Skip and Jump with a mammoth cheque for £42,952!
Hop Skip and Jump in Swindon provides quality respite care for children and young adults with disabilities and special educational needs by providing after school clubs, and clubs during the school holidays.
They approached Global's Make Some Noise for £21,476 that would go towards funding a supervisor and lead care worker for 6 months.
Ben & Mel invited Terry and Haylie from this special project on to the show and presented them with a grant.
The surprise was that is was for a massive £42,952 - double what they had expected and enough to fully fund both roles for a whole year!

Clarissa Mitchell, founder trustee of Hop Skip and Jump said: 'We are so thrilled with the wonderful support of Heart Wiltshire and Global Media. It has been a real pleasure to work with them over the last year and share some of the fantastic achievements from our Swindon centre.
We are really quite overwhelmed with the amount raised and would like to extend a special thank you to all the listeners and everyone who took part in Make Some Noise. The money you have raised will make such a difference to so many - on behalf of the team at HS&J Swindon, and all of the families we support, thank you so much!"
Global's Make Some Noise unites all Global's radio brands, including Heart, Capital, Capital XTRA, Radio X, Classic FM, LBC, Smooth and Gold, which reach 24.1 million listeners every week.
Grants from the annual fundraising activities are awarded to projects across the UK that help disadvantaged youngsters living with illness, disability or lack of opportunity.
Make Some Noise also gives a voice to these small charities and projects across the UK that struggle to raise awareness, as they are often operating on a shoestring or tackling an issue that is not well understood.