Play Heart's 2020 January Jackpot - and you could win £20k!
4 January 2020, 09:39 | Updated: 24 January 2020, 15:58
One song could win YOU up to £20,000 every single day, every time we play!
It's the start of 2020, most of us have spent a bit too much over Christmas and New Year…So, we're helping you out by making 20 people a MASSIVE £20,000 richert his month!
It's our HUGE new game... Heart's 2020 January Jackpot!
One song could win YOU up to £20,000 - every single day – every time we play!
Heart's 2020 January Jackpot starts on Heart Breakfast with Jamie Theakston & Amanda Holden – weekday mornings at 8am, then play throughout your workday with Pandora and Matt Wilkinson until 4pm.
You are listening for the 'January Jackpot song'… When you hear that between 8am and 4pm weekdays on Heart, you need to text the word JACKPOT and the name of the artist to 82122.
We'll randomly select someone to come on air… and if that's YOU… we'll tell you exactly how much money you've won...It COULD be a life changing £20,000!!!

Texts cost 1.50 plus your standard network rate. Once the song starts, you'll have 10 minutes to enter, if you text after that – you won't be entered but you may still be charged. You must be 18 over to play, and all the rules for this Heart Network game are HERE
Who has won £20,000 so far....?
Amy was just on her way home from the hospital, after treatment on her bad bad, when she heard the January Jackpot song play.
She has four children - Finley, Oscar, Arlo and Rivi. - and they normally play along with her in the car so she was gutted they weren't with her at the time to hear Matt tell her the news.
Winning £20,000 has come at an ideal time for Amy, as she'd been having an extension built but run out of money! The house has been like a building site for a while so she'll be able to use the winnings to finish off the build. With it costing £2,000 to get it finished, she'll have £18,000 leftover to spend!
A holiday has to be on the list of things to spend that on, but Amy is already predicting they won't be able to decide where they want to go though so she's thinking of taking four holidays to keep everybody happy.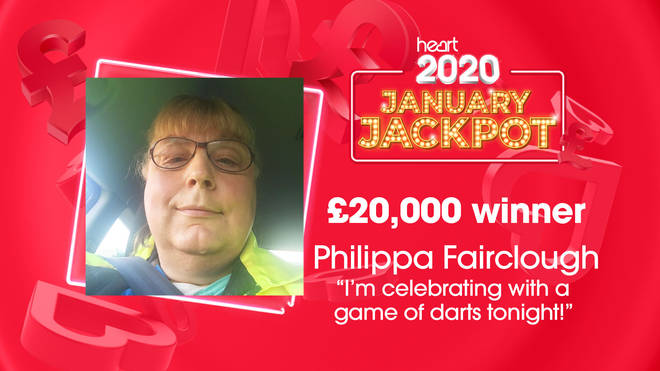 Phillippa works as a carpenter and was heading home from work when she heard the January Jackpot song play, she's an avid player so her persistence has paid off.
She's living in rented accommodation at the moment and really wants a place of her own, so a deposit is on the list of spending plans for her prize money.
She loves playing darts with her sister and is going to celebrate with a game tonight! She also needs to get the car through its MOT - with £20,000 she can buy a new one!
After finding out how much she'd won, Phillippa decided to give herself the afternoon off and crack open a couple of beers!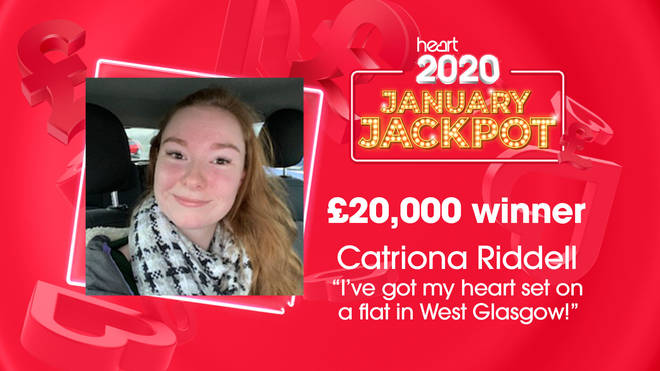 Catriona's works really hard as a theatre nurse, she's 23 and still living with her mum but she's been saving for two years to get a place of her own!
Her heart's set on a flat in the West End of Glasgow and she was speechless when Jamie and Amanda told her she'd won on Heart's 2020 January Jackpot. The £20,000 will sort out a deposit, as well as decorating the flat and decking it out with furniture.
To celebrate her win, Catriona's going to take her mum on holiday to Spain as a thank you for looking after her, and she'll be the first person Catriona calls to tell the good news!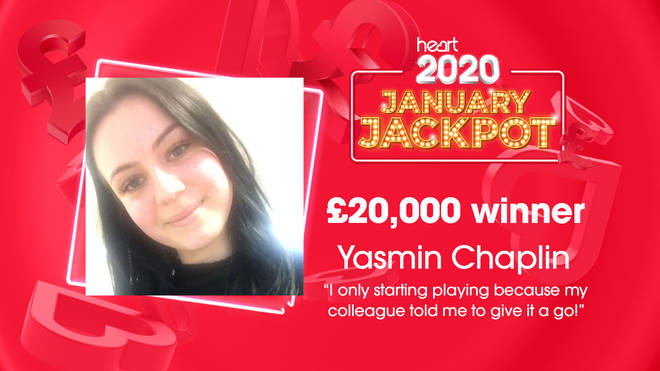 Yasmin was in a busy office and waiting to clock off at 5pm when she heard the January Jackpot song. She only started playing today after her work colleague Chloe told her she should give it a go. Ironically, Chloe didn't play the round that Yasmin won, so she's going to take her out for a bit of a treat to make up for that! 
She has been saving up for the last few years to move out so winning the £20,000 means she can now realistically move out this year, which she is very excited about.
Like all of us, Yasmin has been struggling for money this month, so she can't wait to go clothes shopping and take her mum and friends out for dinner. First on the list of celebrations, she's going to celebrate tonight with her family, a takeaway and a bottle of prosecco! Cheers to your win Yasmin!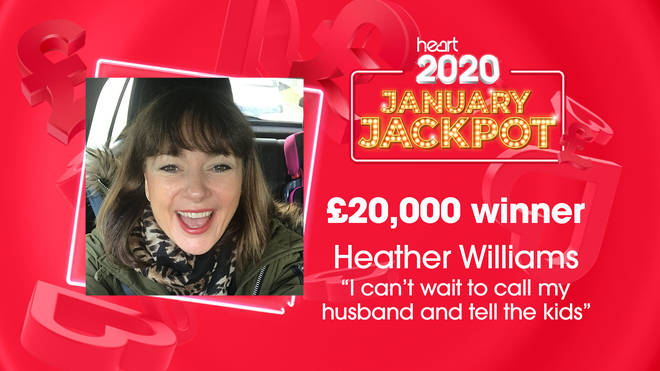 Heather works as a drama therapist for the NHS. She's not had a great week either as she's lost her voice, the clutch went on her car and she fell over after being chased by a dog she thought was a werewolf! Winning £20,000 couldn't have come at a better time and she couldn't wait to call her husband and text her kids to tell them the good news.
On her plans of what to spend the winnings on, Heather told Jamie and Amanda about her family in Australia who she's not seen for 6 years. Taking her three children down under is an expensive holiday so the money will definitely help make a family reunion possible.
Joking about her run in earlier in the week, Heather also reckoned Idris Elba would be her ideal bodyguard to protect her from the local neighbourhood werewolves!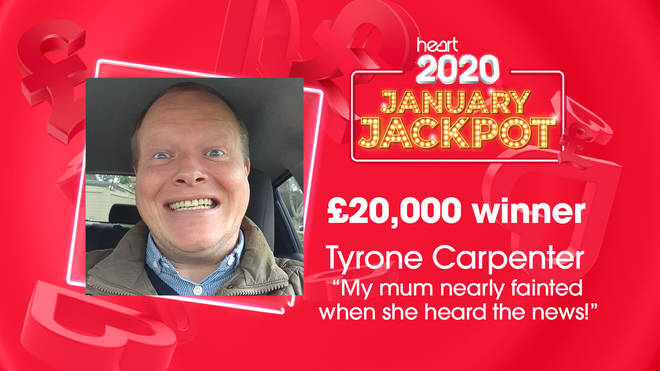 Tyrone was having a poached egg on toast for lunch, as there wasn't much in the fridge, when he heard the Heart's 2020 January Jackpot song play.
He went from shock to disbelief then happiness when Pandora told him he'd won! His mum, Irene was with him and nearly fainted!
His wife is coming up to her 40th birthday and wasn't sure what to do to make it extra special for her. Tyrone had wanted to treat her to a car for her special birthday and now he is able to do this with his 2020 Jackpot.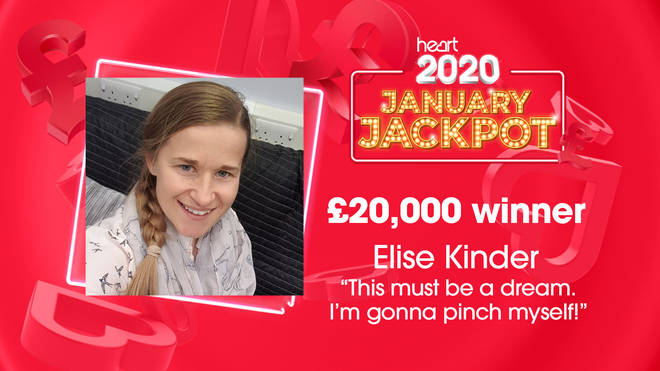 "This must be a dream. I'm gonna pinch myself!" Elise couldn't believe what she was being told, as Jamie Theakston and Amanda Holden told her the news that she had won £20,000 on Heart's 2020 January Jackpot.
Elise has had a tough time recently and has taken time off work as a teaching assistant to look after her son, Joshua, who has just been diagnosed with epilepsy. "I can have some time with my son when he needs me now," she told Jamie and Amanda.
She has an 11-year-old daughter too, Abbie, and together they want to go to Legoland to have some much needed fun as a family. So with their £20,000 win, that trip will definitely be happening! Joshua also has his eye on the latest gaming tech, so Elise is delighted she can now surprise him with the gear he wants.
Elise has also got plans for a holiday in the next few months and wants to go back to Greece as she's not been for 10 years.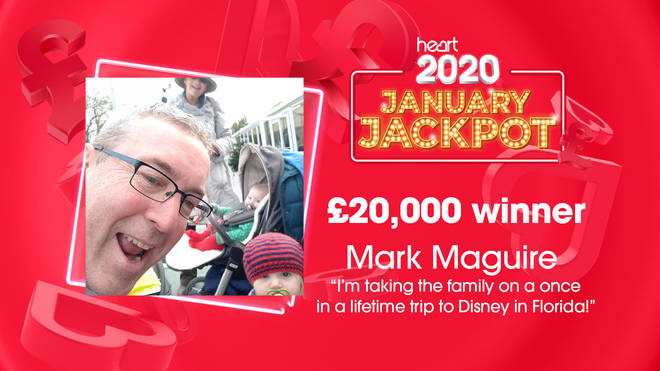 Mark was working from home when he heard One Direction and became our 5th £20,000 winner on Heart's 2020 January Jackpot! 
He can't normally play because he doesn't have the radio on in the office, so was chuffed he could get involved, and couldn't believe his luck when he won.
Mark has two kids who are non-stop pestering him for the new Playstation and the latest trainers.. so how he'll be able to sort them out with some of the £20,000 that'll soon be in his bank account!
He does plan to spend some of his winning on himself too, as he's always wanted to take his family on a once in a lifetime holiday to Walt Disney World in Florida and that dream can now become a reality.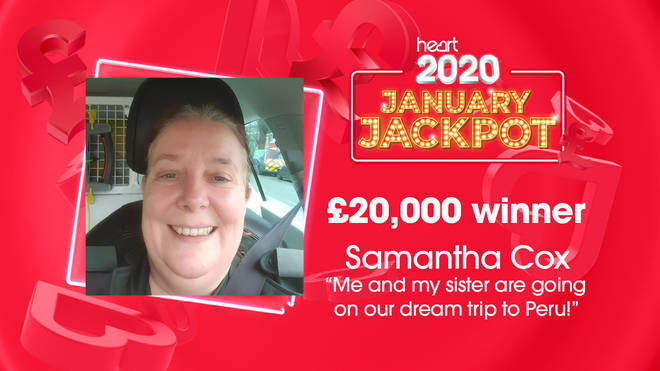 Samantha's a paramedic and was on shift when she heard us play Heart's 2020 January Jackpot song!
She has two children and three grandchildren who all got presents from her this Christmas so she described the state of her bank account as "dire"! £20,000 couldn't come at a better time for her and her bank balance.
Samantha told Jamie and Amanda on Heart Breakfast, that she really wants to go to Peru with her sister, Karen. With £20,000 in the bank she can finally book that dream trip. She can't wait to tell Karen to tell her the good news and we're so happy for them both!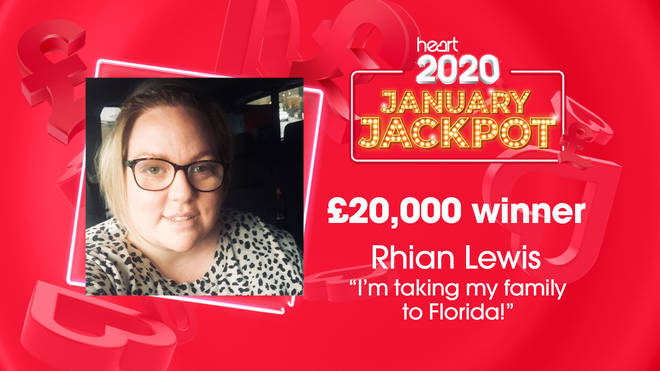 Rhian was picking up her dad and step-mum from the train station when she heard Matt Wilkinson play Heart's 2020 January Jackpot song!
She's going through fertility treatment at the moment which costs £3,000 each time and will find out tomorrow if her first treatment has been successful.
If it hasn't been, she can now afford more treatment thanks to her £20,000 win. To celebrate with her family, she's going to book a holiday today and wants to take her family to Florida.
Gina lives with her 26 year old daughter, Daniella who really wants to get on the property ladder.
They've had a rough couple of years and Gina describes her daughter as the "rock" who's helped her throughout.
She always promised to repay her daughter's kindness and now she can after winning £20,000, she's giving ALL the money to Daniella!
Gina's never won anything in her life before but her luck changed today after hearing our Jackpot song and entering to play. After her emotional chat with Jamie and Amanda on Heart Breakfast, she can't wait to call her daughter Daniella to tell her the good news and we couldn't be happier for them!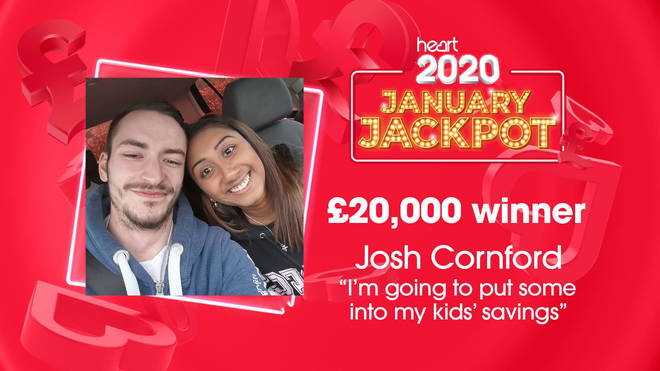 Josh and his wife Kancana both work part time so they can share the childcare their two small kids Alisha, 3, and baby Joshua, 1.
Winning £20,000 means the absolute world to them both. Money is tight and yesterday they had just booked a holiday to Greece for September.
Now they've won £20,000 they're now planning to pay that off, put some money into the kids' saving accounts and then sort out a few family members... and Kancana would also like a new pair of trainers!