Heart's Make Me A Millionaire: One Heart listener will win £1,000,000!
31 March 2020, 07:20 | Updated: 31 March 2020, 13:49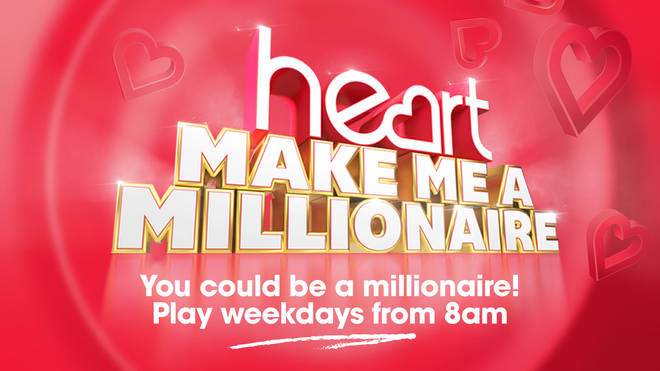 We are creating history on Heart by giving you the chance to win the biggest prize on British radio!
Things might be uncertain for everyone at the moment but we can tell you one thing that will definitely happen - at the start of May, one Heart Listener is going to win a life-changing £1,000,000!
That person could be you, but you've got a choice to make - a cash lump sum that day, or entry in to the £1 million draw!
Here's how it works…
Every weekday morning on Heart Breakfast, Jamie Theakston and Amanda Holden will give you the name of an artist and tell you how much money that artist is worth.
Then whenever that artist plays on Heart between 8am and 4pm, you text WIN to 82122 to try to win the money.
(Texts cost £2 plus your standard network rate. Once the song starts, you'll have 10 minutes to enter, if you text after that – you won't be entered but you may still be charged. You must be 18 or over to play this Heart network game. All the rules are HERE).
We'll then randomly select someone to come on air. If that's you, you'll need to choose whether to keep the money - which is paid in to your bank account THAT DAY - or go into the draw to win an incredible £1,000,000!
Tuesday 31st March
Today's artist is Lewis Capaldi!
Whenever he plays on Heart today, you can win… £3,000!
So, do you take that money, paid into your bank account today or do you shout, "Heart, make me a millionaire!" and go into the draw at the start of May to win a life changing £1,000,000?
The choice is yours!
'Heart's Make Me a Millionaire', plays weekdays 8am – 10am on Heart Breakfast with Jamie Theakston & Amanda Holden, then 10am – 4pm with Pandora and Matt Wilkinson.
Who is in the draw for £1,000,000?
Amy Calver from Whitstable, Kent

Amy looks after her 3 children full-time while her self-employed husband is at work. The family hasn't had a holiday since 2009, so she'd definitely spend £1million on that. But first, as they're renting, the first thing Amy would do if she won Heart's Make Me A Millionaire is buy a house outright.
Clare Bray from Leeds

Clare turned down £6,000 for a place in the draw. She should have been in work today, but took the day off to visit one of her daughters who is a bit poorly in hospital. If she won the million pounds, she'd like to share it with her 3 kids, Becky Bethany and Katie - plus she would buy her home, a new car and treat the family to a Barbados holiday.
Steve Lock, from Rochester

Steve told Jamie and Amanda he was turning down the cash for a place in the draw. Steve got married earlier this year but still hasn't got round to going on his honeymoon yet! With the million pounds he'd buy a brand new house with a swimming pool and hot tub in the garden, he was very specific! He thinks his wife will "kill him" when she finds out he turned down £2000, but as Steve put it himself, "£2000 or a million? You don't get many opportunities like this!"
Michelle Duffield, from Maidstone

Michelle turned down the £2,000 for a place in the draw, and the second person to do that in one morning on the second week of Heart's Make Me A Millionaire! Michelle has five children, and looks after them full time, so the first thing she'd be spending a million pounds on is a 7-seater minibus to carry them around in! Her other half, Barry and 13-year-old daughter helped her make her decision and win her place in the draw at the start of May.
Janet McGregor, from Norwich

Janet living in an old bungalow at the moment, so she's already got plans to buy a new house if she were to win a million pounds on Heart's Make Me A Millionaire! She also has dreams of landscaping her garden so that it's wheelchair-friendly, with a holiday on the list too after not being away on one in twenty years. Jan turned down £2,000 for her place in the draw, and will be keeping everything crossed.
Lisa Thompson, from Rochester

Lisa was on her way to the supermarket when she heard Lady Gaga play, and entered to play Heart's Make Me a Millionaire. On what to spend a million pounds on, Lisa is dreaming big... she wants a boat! She'd travel around the world with her siz children on it and enjoy lots of sunbathing on the deck - she has it all planned out. She promised herself when the game started that if was ever picked to play she'd go into the draw no matter what the cash prize was. "A million pounds is a massive life-changer"
Adam Broadhead, from Wolverhampton

"My wife has been though a lot, and I'd like to make things better for her". Adam's partner developed breast cancer a few years ago and also now has Lipedema in her legs which means shoes no longer fit her, she needs a big operation to improve her quality of life which would cost the family £30,000! They have two kids together, and although Adam would love to take the whole family on holiday with a quick fix of cash, the pull of one million pounds was too much to turn his back on.
Laura Maier, from Buckinghamshire
Laura wasn't tempted at all by the £3,000 and had already decided that if she was picked to play, she'd go into the draw for a million pounds! She's been planning out what it would be spent on and at the top of the list, Laura wants to set up her own veterinary clinic with her husband, as they are both vets. They love animals and how rewarding it is to rescue and treat them. With the rest of the money, they'd spend it on a new house and Laura said she'd treat her two daughters to a luxury holiday!
Sean Levitt, from West Yorkshire

Sean knew he was going to go for the million as soon as he entered Heart's Make Me A Millionaire! He's even got his millionaire lifestyle all planned out with a a new house, a new car, world cruise and some well deserved time off work. His dream car is a Range Rover as he wants to get rid of his old Astra, and he'd invest in a property empire! Dreaming of winning a million pounds Sean said, "Retiring at 27 would be a dream!"
Stefanie Williams, from Carmarthenshire
Stefanie's millionaire dream is a smallholding for herself and her five children as she'd love to live in the countryside with her own horses. Two of her boys are autistic and she'd love to give them an amazing environment to play in outdoors. She was tempted to take the £1,000 cash prize on offer as it would sort out a nice caravan holiday somewhere in the UK but she does that every year, so she decided to go into the draw! Her 13 year old was in the car with her and between them they decided the chance of a millionaire lifestyle was too good to miss out on!
Jo Browne, from Cheshire

Jo was inspired to play the game because she heard Shane play earlier in the day, who won some money to help pay for IVF. She made the decision to turn down that huge £9,000! Explaining her decision, she told Matt Wilkinson that she wants to help her son George financially and invest in his future. She also has loads of friends and relatives she wants to help out and would love to see the look on their faces when she gives them some money! She'd also like to do up her house and get some new furniture. George is car-mad and she'd get him a new car when he gets older, that's a long list but with a million pounds, it would all be possible!
Ruth Morgan, from Mid Glamorgan

Ruth's holiday in Vietnam was cancelled, so she was travelling to Cumbria with her husband Kelvin for a break when she heard Jess Glynne play. She has four boys and a million pounds would set them up for life, so she didn't want to take the cash prize on offer at the time of playing. She's been thinking about how she could look after them in the future for a while, and winning that money would do just that. When she can, she'd like to book a family holiday to New York and pay off her mortgage.
Charly Greer, from West Sussex

Charly's a carer looking after a lady with MS, she decided she'd never get the chance to win a million pounds again so going into the draw was a no-brainer for her! With her mum having to shut her pub during these difficult times, she will lose a lot of money so Charly hopes that if she wins the million she can help her out. . She'd also use the money to buy a house outright, so she wouldn't need to worry about a mortgage ever again. With the money left over, Charly told Matt how she'd set up her children for life, splitting the rest between her 4 children aged 4, 7, 9 and 13.
Lewis Mitchell, from Hertfordshire

Lewis is in self-isolation at the moment, so was cleaning his bathroom when he heard us play Lewis Capaldi on Heart's Make Me A Millionaire. He'd already had the chat with his girlfriend Jessica about what they'd do if they had the decision to make whether to take the money or go into the draw for a million pounds. Eventually they both agreed that they'd go into the draw if they were picked to play as it's Lewis' birthday next month so a million pounds would be a great birthday present! Dreaming of what they'd spend the money on a "pretty big and pretty plush" house is top of their list!