Win A Golden Ticket For Luna Cinema
23 April 2021, 09:26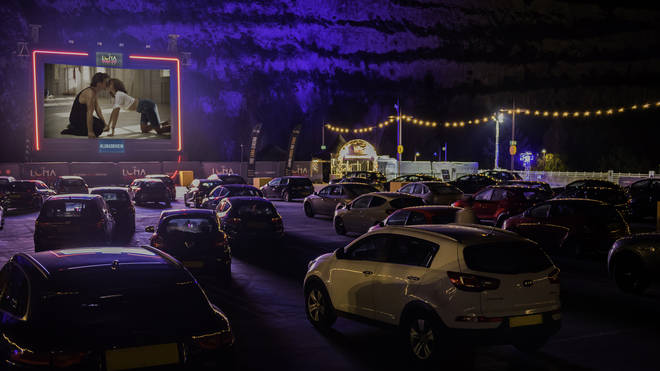 After months of staying indoors, now's your chance to enjoy some movie magic and win a Golden Ticket to any Luna Cinema showing in 2022.
The Luna Cinema are bringing you two ways to enjoy your favourite film's and reignite your social life this spring and summer, all in a safe and Covid-19 secure environment.
From now until 21st June, mix the old school glamour of the Classic Drive In Cinemas, with the state of the art technology to give you a movie going experience with a twist!
Heading to 7 venues around the UK including Blenheim Palace, Knebworth House & Tatton Park, the Luna Drive In Cinema is perfect for your first big night out in ages. With delicious click and collect food on site, in car speakers (bye bye flat batteries!) and giant HD screens, you won't miss a moment of the action.
From movie musicals like The Greatest Showman and Grease, feel-good rom-coms Pretty Woman and Dirty Dancing to blockbusters including Bohemian Rhapsody and Rocketman, they have all your favourite films on the big screen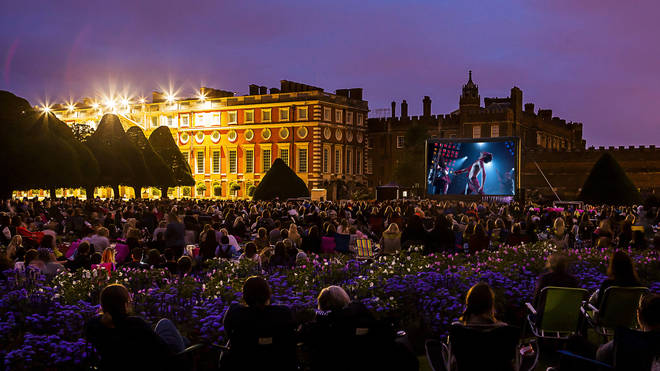 Then back with a bang from June, the Luna Open Air Cinema Summer Season runs right through until Autumn.
Say goodbye to sitting room cinema because it's time for a movie-going experience like no other! Heading to over 60 venues up and down the country, The Luna Open Air Cinema will be screening classic movies at stunning locations such as Blenheim Palace, Lulworth Castle, Hampton Court Palace, Bolton Abbey, Rochester Castle, Westminster Abbey and York Minster.
It's time to head out with friends and family to enjoy an unforgettable evening of cinema under the stars.
Tickets for summer 2021 go on sale 7th May - save the date in your diary!
And for both seasons, make sure you listen out for Heart as we'll be providing the pre-movie soundtrack and love being tagged in your insta pics!
For your chance to win this fantastic prize, entitling the winner to a Luna Cinema Golden Ticket for you and a friend entry into any Luna Cinema Open Air Season AND Drive In Season screening across 2022, enter below.
Win a Luna Cinema Golden Ticket on the Heart Network, April – October 2021 – Specific Rules.
1. The Win a Luna Cinema Golden Ticket promotion ('Promotion') is organised by Global (as defined in the General Terms and Conditions). The Promotion will run from Friday 23rd April 2021 to Sunday 3rd October 2021 on the Heart Network.
2. IMPORTANT: The Promotion is subject to these Specific Rules and the General Terms and Conditions which are available here. Entry into the Promotion constitutes acceptance of these Specific Rules and the General Terms and Conditions.
Details of the Promotion:
3. To enter the Promotion, you must go online to the Promotion entry page at heart.co.uk/win, register your details and submit an answer to the multiple choice question provided.
4. Online entry will open at 12:00 on Friday 23rd April 2021 and close at 23:59 on Sunday 3rd October 2021. Entries received before or after this time will not be included in the Promotion.
5. Within seven days of the closing time of the Promotion, all eligible entries will be entered into a draw. One correct entry will be selected at random and the winning entrant will be contacted by one of our representatives via telephone on the telephone number on which you entered. If such winner does not respond within 28 days from being contacted, they will forfeit their right to the prize and we shall be entitled to select another winner by another random draw.
6. We and The Luna Cinema may publish and publicise your name, image, your nearest geographical location (for example, your nearest city, town or county) and your entry, and we may refer to your guest's association with the Promotion and/or the prize, in any and all media, worldwide, in perpetuity, for publicity and PR purposes solely in connection with the Promotion.
7. In relation to winners (and runners up if applicable), you understand that we The Luna Cinema may: (i) interview you and your guest(s)/travel companion(s) which we may film, photograph and/or record and; (ii) film, photograph and/or record, you and your guest(s)/travel companion(s) in connection with the Promotion, either by telephone or in person, and we may use such films, recordings and/or photographs for publicity and PR purposes in any and all media, worldwide, as often and for as long as we consider appropriate or desirable, in connection with the Promotion. We may also publish your and your guest(s)/travel companion(s) name, image, social media handle and/or profile picture.
Eligibility:
8. The Promotion is only open to residents of the UK aged 18 and over, and who are based in the UK at the time of entry.
10. Entry is restricted to one entry per person; duplicate entries will be excluded from the Promotion.
Prize:
11. One winning entrant will receive one pair of Luna Golden Ticket Cinema Tickets.
12. One pair of Golden Ticket entitles the winner to 2 tickets to every screening at the Luna
Drive In Cinema season in 2022 and The Luna Open Air Cinema season in 2022, subject to availability. The Prize will be delivered within 28 days of contacting the winner via email confirmation. Winners must pre-book the screening of their choosing 48 hours in advance, via the customer services contact details provided with the prize confirmation. The winner may change guest at each screening, but the named winner must be in attendance with them. If the ticket is found to be used by a person other than the named winner, the prize will be forfeit. In the unlikely event the 2022 Drive in & Open Air Cinema seasons are cancelled due to unforeseen circumstances, the ticket will be valid in the 2023 seasons. Screenings and locations are not guaranteed and subject to change. 
14. Any other costs and expenses which are not specifically included in the prize description are excluded and will be the sole responsibility of the winner. By way of example, without limitation, any travel to and from the venues or accommodation is not included within the prize.
15. The prize is non-transferable, and non-refundable. No cash alternative is available.
16. We reserve the right to substitute the prize with another prize of equal or greater value at our absolute discretion.
17. For all enquiries in connection with the Promotion please contact our customer support team at https://global.com/contact/.
Data Protection:
18. Your personal data, and the personal data of any guest(s)/travel companion(s) that you or they provide to us, will be collected and processed by us, our licensees (including Communicorp UK Limited and Quidem Limited), The Luna Cinema as well as the prize providers, and if applicable, our service providers, network operators and suppliers in order to administer and fulfil the Promotion. Your personal data may also be disclosed to the Phone-paid Services Authority, Ofcom and/or the Advertising Standards Authority at their reasonable request for regulatory purposes, for example, in order to prevent, investigate and detect crime, fraud or anti-social behaviour and comply with law enforcement agencies and applicable advertising codes.
19. We may hold your personal data for a period of 2 years in order to comply with our regulatory obligations.
20. You may be asked if you want to opt-in to marketing from us or our Promotional Partners when you enter a Promotion. If you choose to opt-in, we and/or our Promotional Partners (as applicable) will use your personal data for marketing purposes (see our Privacy Policyfor more details). You can opt out at any time.
21. We, the Promotion Partners and the prize providers may transfer and process personal data outside of the EEA and UK for the purposes of administering the Promotion.
22. By entering a Promotion, you acknowledge that any personal data provided by you in connection with the Promotion will be processed as set out above and in accordance with our Privacy Policy, which sets out full details of how we process personal data and how you can exercise your rights as a data subject. Please ensure you have read and understood our Privacy Policy before entering any Promotion.
23. You may request the removal of your personal details from our database by contacting privacy@global.com. If you request that your personal details be removed prior to the conclusion of a Promotion, you will forfeit your right to enter the Promotion and/or claim any prize and we reserve the right to select another entrant to participate in the Promotion or withdraw the prize and select another winner, as applicable.
24. If you are required to submit a guest(s)/travel companion(s) personal data to enter a Promotion, you must ensure that your guest(s)/travel companion(s) have given you consent to provide us with their personal data.