30 Years On - Miners Strike Wounds Still Raw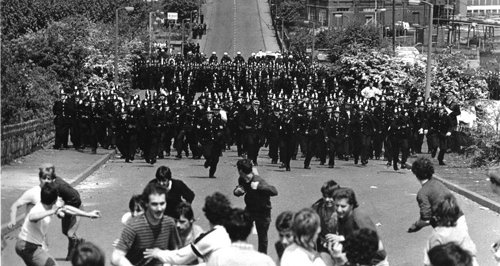 30 years after the end of the strike, former miners say they won't trust the police until there is a full public enquiry.
On March 3rd 1985 tens of thousands of miners marched back to their local pits 12 months after the start of the walkout over closures.
But even 3 decades later many people who were involved in the industrial action in South Yorkshire say they the police still haven't been held accountable.
The Orgreave Truth and Justice Campaign is one group calling for a full public inquiry into the behaviour of South Yorkshire police and the other forces involved.

The infamous "Battle of Orgreave" saw thousands of miners clash with even bigger numbers of police officers oustide a coking plant near Sheffield.
Rotherham miner Bruce Wilson was there.
Hear his story here:
Background to the strike
The miners' strike started in Yorkshire in early March 1984 and within days half the country's mineworkers had walked out in protest at pit closures.
The dispute rapidly escalated, with 8,000 police officers drafted into Nottinghamshire, the county which became one of the fiercest battlegrounds as some miners continued to work, arguing there should have been a ballot.
Most of the UK's 190,000 miners were soon embroiled in a daily routine of picketing outside collieries, most of which had ground to a halt.
During the strike, about 20,000 people were injured or admitted to hospital, including NUM leader Arthur Scargill, while around 200 served time in prison or custody.
Two men were killed on picket lines. David Jones, from Wakefield, died amid violent scenes outside Ollerton colliery in Nottinghamshire on March 15, while three months later Joe Green was crushed to death by a lorry while picketing in Ferrybridge, West Yorkshire.
The NUM has held an annual event ever since in memory of the two men.
The strike began after an announcement by National Coal Board chairman Ian MacGregor that four million tonnes of capacity was to be taken out of the industry, leading to a loss of 20,000 jobs.
The closure of Cortonwood Colliery in South Yorkshire, which the NUM complained was made without reference to established procedures, was the spark that led to the historic showdown.
The miners returned to work after a year of confrontation to an industry that would never be the same again.
A total of 24 pits closed in 1985, 16 the following year and a further 35 before 1990.
Closures continued in the early 1990s and after the industry was privatised at the end of 1994.
Mr Scargill was ridiculed when he warned in 1993 that the number of pits would be cut to 12. Today there are just three deep mines in operation.