A Woman With Parkinsons Will Cycle 477 Miles for Charity
15 April 2016, 18:11 | Updated: 15 April 2016, 18:28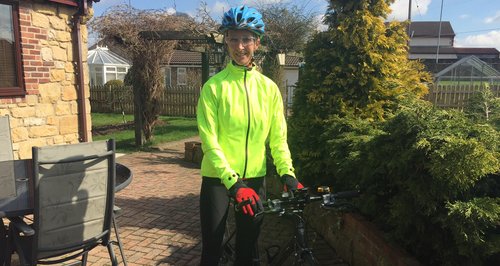 A mum from West Yorkshire who was diagnosed with Parkinson's at the age of 42 is taking on the challenge of her life.
Leanne Owen's Challenge for Parkinson's UK Awareness Week which starts on Monday 18th is a 477 mile cycle ride in 7 days for Parkinson's UK linking 24 Parkinson's Support Groups and Branches
Ex-fire-fighter Leanne was diagnosed with Parkinson's in 2011 and since then she has been dedicated to fundraising for the charity.
Leanne's route will begin in Wakefield before cycling through 21 towns and cities including Leeds, Huddersfield, Sheffield, Hull and Scarborough. Local branches and support groups are rallying to support Leanne by putting on events to mark her arrival, offering meals and cheering her along the way.
Leanne explains:
'In 2012 a Parkinson's UK mascot was passed around the branches to help fund raise, so this year I thought, why not cycle the route myself.
'Every day living with Parkinson's is a challenge, from washing my hair to writing my name. But I like to focus on what I can do, and that includes riding a bike.
'It is a daunting prospect, especially with the added complication of Parkinson's, but the support I have had so far has been incredible.
'People I don't even know have sponsored me and sent messages, so when I see that it makes me get on the bike to put in extra training. I want to demonstrate that life after a Parkinson's diagnosis can still hold adventure and some challenges can be overcome.'
Listen to her story here:
To sponsor Leanne go to her Just Giving Page