Bonfire Night Trouble In Leeds
6 November 2017, 11:28 | Updated: 6 November 2017, 11:29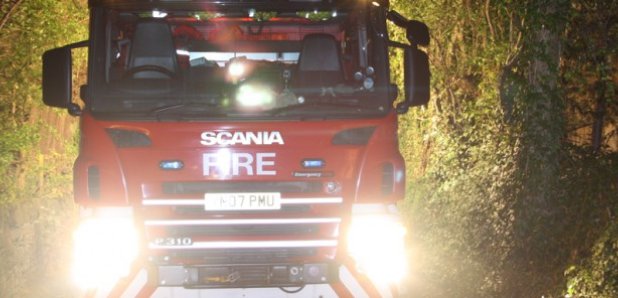 Police and firefighters came under attack from two gangs of youths in Leeds last night.
The gangs barricaded streets in Harehills and Hyde Park with bins and other things - then set fire to them - and fired fireworks at the emergency services when they arrived to deal with it.
Shortly after 9pm last night, police received a number of calls from members of the public reporting that a large group of youths had built a barricade from bins and other items across Harehills Road, in Harehills.
The barricade was set alight and fireworks and other objects were thrown at emergency services staff who initially attended.
Officers in protective equipment, including helmets and shields, were sent to the area and dispersed the group. Firefighters put out the fire and the road was cleared a short time later.
No-one was injured and no properties were damaged. Two police vehicles were damaged and a number of residents reported low-level damage to their vehicles.
Shortly before 10pm, police received reports of a group of youths having blocked Queens Road, in Hyde Park, with bins and other items which were set on fire. Fireworks were also being thrown by the group.
Officers in protective equipment were deployed to the area and dispersed the group and firefighters put out the fire and the road was cleared. No-one was injured in the incident.
Detective Superintendent Lisa Atkinson, Head of Crime for Leeds District, said: "While the bonfire weekend often brings an increase in incidents of firework-related anti-social behaviour, these two incidents were more serious and required officers to deploy in full protective equipment to deal with them.
"Both incidents were dealt with quickly and the groups dispersed but we don't underestimate the impact this behaviour will have had on people living in those areas.
"It is completely unacceptable and we are currently carrying out criminal investigations into both incidents to identify those involved and take appropriate action against them.
"We are making detailed enquiries into both incidents, including checking CCTV footage, and we would like to hear from anyone who has any information that could assist our investigations.
"Officers from the local neighbourhood policing teams are aware of the incidents and will be continuing to patrol the areas to reassure residents."
Anyone with information is asked to contact Leeds District CID quoting crime number 13170516886 or call the independent charity Crimestoppers anonymously on 0800 555 111.