CCTV Images Of Boston Spa RobberyOn Monday
25 March 2015, 05:23 | Updated: 25 March 2015, 05:30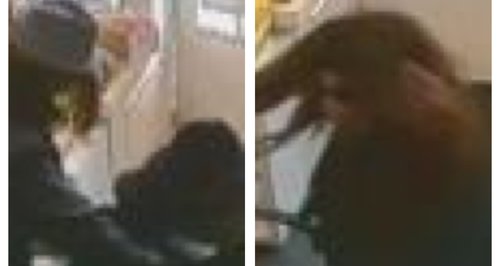 West Yorkshire Police detectives investigating an armed robbery at a Post Office in Boston Spa, Wetherby, on Monday have released CCTV pictures of the offenders.
The pictures show the two robbers entering the post office, dressed in women's clothes, wigs and hats, with one being pushed in a wheelchair.
They also show them running from the premises with one holding the shotgun that was discharged once outside.
West Yorkshire Police have told us on Tuesday they arrested a 32-year-old woman on suspicion of conspiracy to commit armed robbery and also searched an address in the village of Clifford.
Detective Inspector Phil Jackson, of Leeds District CID, said: "The images clearly show how noticeable this pair would have been to anyone who saw them in the moments leading up to the robbery and as they fled from the scene.
"We have spoken to a number of witnesses about the events at the post office itself but are still very keen to speak to anyone who has seen the two offenders or the vehicles they have used either before or after the incident.
"The offenders left the scene in a white Nissan Juke which was found on fire nearby in Beeches End a short time later. That vehicle had been stolen in a burglary in Wetherby overnight on February 6 and 7. It was bearing different false registration plates on the front and back. These had been stolen from two vehicles in the Meanwood and Headingley area over the weekend just gone.
"The Nissan has clearly been missing for some time and we would like to hear from anyone with information on where it might have been in that time.
"We believe the offenders left Beeches End in what has been described as a white sports car. We would like to hear from anyone who may have seen that vehicle leaving the area.
"A large amount of cash was recovered from outside the post office and we believe the offenders probably left empty handed. This was mainly due to a number of members of the public who intervened and tried to tackle them.
"A male member of staff from the post office was hit on the head with a crowbar during the struggle outside and was treated at hospital for minor injuries and was later released.
"This was a very serious incident for what is normally a quiet village and people living there are understandably concerned about what has happened. I would like to reassure them that we have a team of detectives doing everything we can to identify and trace the people responsible for this offence. Our colleagues from the local neighbourhood policing are also maintaining an increased presence in the area to reassure the community.
Anyone with information is asked to contact Leeds District CID via 101 or call the independent crime-fighting charity Crimestoppers on 0800 555 111."