Corfu Gas Deaths: Thomas Cook 'Breached Duty'
13 May 2015, 15:44 | Updated: 13 May 2015, 15:46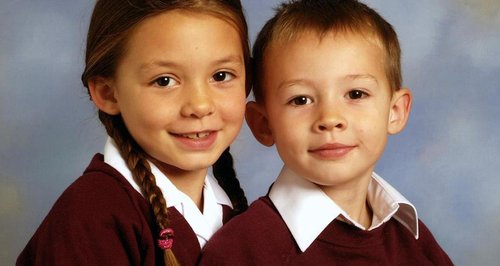 Tour operator Thomas Cook has been told it should "hang its head in shame" after a jury found it "breached its duty of care" over the deaths of two children on holiday in Corfu.
Jurors reached a verdict of unlawful killing at the inquest into the deaths of Bobby and Christi Shepherd, aged six and seven.
The siblings, from Horbury in West Yorkshire, died at the Louis Corcyra Beach Hotel when they were overcome by carbon monoxide fumes from a faulty boiler in an outbuilding.
Their mother Sharon Wood said she was "hugely relieved" that the fight for justice was over, adding that she would "always hold Thomas Cook responsible for their deaths".
Lawyer Leslie Thomas QC read a statement from the family: "Thomas Cook is a multi-million-pound operation who take money from families like this who expect to go on holiday and have the time of their lives.
"They do not expect to return from holiday with their children in coffins because Thomas Cook staff failed to properly check the standards of the hotel they stayed in.
"Thomas Cook should hang its head in shame.
"The families have waited nearly nine years for an apology - they are still waiting. We ask: will you say sorry now?"
Sky News has contacted Thomas Cook for a comment.
Bobby and Christi were found by a chambermaid during the £2,000 holiday in October 2006.
Their father Neil and his partner - now wife - Ruth were found in comas but survived.
After the jury returned its verdict, West Yorkshire Coroner David Hinchliff retired to consider his recommendations.
A two-week inquest in Wakefield heard about a series of faults in the rusting boiler, including a failure to fit a flue, a water leak which meant it was over-working and a crucial safety device that had been short-circuited.
Holes were also left in the walls between the outbuilding and the bedroom when air conditioning pipes were installed - branded a "bodged and botched" job by the coroner.
The previous occupants of the bungalow also become ill, jurors were told.
Several former employees of Thomas Cook appeared at the inquest but exercised their legal right not to answer questions.
Former chief executive Manny Fontenla-Novoa was asked whether the firm put "profit before safety" but refused to answer.
The man currently in the job, Peter Fankhauser, said: "I feel so thoroughly, from the deepest of my heart, sorry, but there's no need to apologise because there was no wrongdoing by Thomas Cook."
Mr Fankhauser said the correct checks were not done because the hotel lied to Thomas Cook about there being no gas-fuelled water heaters at the complex.
Another former Thomas Cook employee, holiday rep Nicola Jordison, also exercised her right not to answer, which could be self-incriminatory.
She and customer affairs executive Richard Carson were cleared in Greece of manslaughter by negligence and causing bodily injury by negligence.
Three Greek people have been convicted over the tragedy.
(c) Sky News 2015