Danny Jones Dies After Game At Keighley Cougars
5 May 2015, 10:56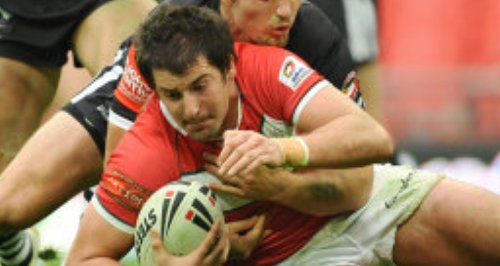 Keighley have retired the club's number 6 jersey in memory of their player Danny Jones.
The 29-year-old Wales international died on Sunday of a suspected cardiac arrest after falling ill four minutes into the Cougars' League One game at London Skolars.
He collapsed at the side of the field, an air ambulance was called and he was taken by road to the Royal Free Hospital, where extensive efforts failed to resuscitate him.
Jones leaves behind wife Liz and five-month-old twins.
Keighley, who have been coming to terms with the tragedy, said on their Twitter account: ``The club can announce the number 6 jersey has been retired in memory of Danny Jones. #RIPJonesy.''
The club also announced that their players would decide after training on Tuesday night whether or not they wanted this weekend's clash with Coventry to go ahead.
Meanwhile, players, fans and administrators came together to raise almost #30,000 in just over 24 hours to support Jones' family.
The sport's Benevolent Fund, which was set up with the intention of ``helping players who suffer life-changing accidents'', established a fund-raising account and was joined by Leigh director Derek Beaumont, who separately pledged #2,000 and challenged other club owners to follow suit.
Keighley opened the gates of their Cougar Park ground to allow mourners to leave tributes and Twitter pictures showed shirts being laid from several clubs, including as far afield as Catalans Dragons.
Writing on Twitter, Keighley coach Paul March said:
'I'd like to thank everyone for their support at this difficult time, we are all devastated at our loss, life is so cruel at times RIP Jonesy.'
Keighley confirmed the tragic news regarding Jones on Sunday evening.
'Danny was much loved and highly respected by all at the club and in rugby league,'' they said of the goal-kicking full-back.
'He was the life and soul in the dressing room, a natural leader, a true professional and irreplaceable. He achieved over 1,000 points and 150 appearances for Keighley Cougars and he will be sorely missed. We are devastated.
`Our hearts go out to Liz, his children and his family.'
Winning 12 caps for Wales, Jones spent his club career with Keighley and hometown club Halifax, although the standout moment came when he represented Wales in the 2013 World Cup, facing the Cook Islands in Neath.
Wales Rugby League chairman Brian Juliff said: '
'Everyone at Wales Rugby League is very shocked to hear of Danny's sudden passing. Our condolences go out to his family, friends and colleagues at this sad time.'
Jones is the second rugby league player in just over six years to die after collapsing during a match.
Wakefield forward Leon Walker, who was 20, fell ill during a Wildcats reserve game with Celtic Crusaders in Maesteg in March 2009. It was later discovered that he had an undiagnosed heart defect and a coroner ruled that he died from natural causes.
Just six months before then, Wakefield's Cook Island international Adam Watene, 31, died after collapsing during a training session.
Leeds half-back Chris Sanderson died on the pitch in a match against Salford in 1977.