Huge Fire At Majestyk Nightclub In Leeds
1 October 2014, 07:28 | Updated: 1 October 2014, 07:35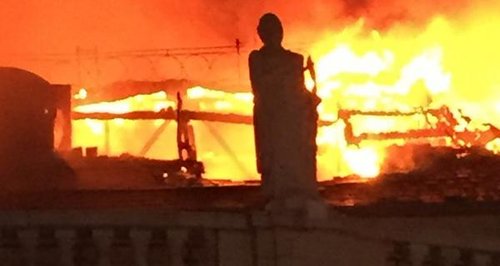 Firefighters are battling a large blaze at a well-known building in Leeds.
Smoke could be seen billowing from the roof of what was previously the Majestyk Nightclub in the centre of the city.
The Grade II Listed building was formerly home to the Majestic cinema and was built in 1921.
The nightclub shut several years ago and the building has recently undergone refurbishment, with plans to open a leisure venue.
West Yorkshire Fire services said they were alerted to the blaze at around 7.20pm and sent 10 fire engines and up to 75 officers.
Dave Walton, assistant chief fire officer said it was a 'massive incident.'
He said:
'Crews found a fire on the second floor and the blaze was rapidly spreading to the roof.
'Because it's been in the roof it's very difficult for us to access.'
'We are doing what we can to protect the structure of the building but unfortunately the roof has really disappeared at this moment.
'At this very early stage the building looks OK.'
Firefighters were still at the scene in the early hours of Wednesday morning, with the building still understood to be alight.