Hull UK City Of Culture 2017
1 January 2017, 06:00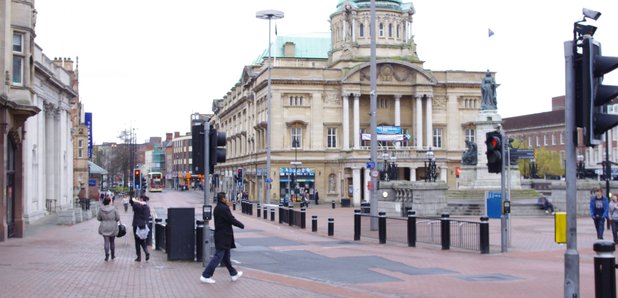 2017 is a big year for Hull - it's the UK's City of Culture!
The historic year officially launches at 4pm on Sunday 1st January with a major event which is a journey through almost 100 years of the city's history.
Local and international artists are using large-scale projection, soundscapes, animation and interactive live performance to transform iconic buildings, streets, the skyline and other public spaces around Hull's city centre.
The event is free, unticketed event and runs over seven evenings (1-7 January).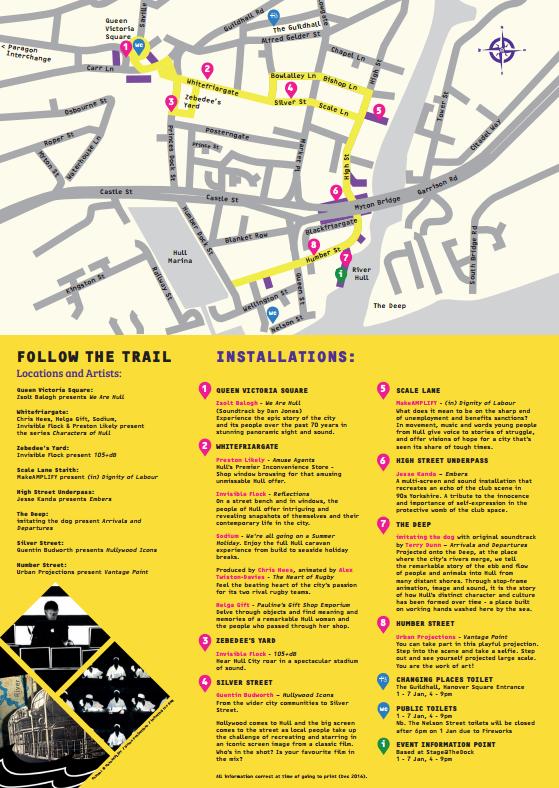 Also on Sunday evening there's a big firework display over the River Humber for 25,000 ticket holders. It starts at 20.17pm.
The spectacular will last for around 12 minutes, along with a soundtrack of music from bands and musicians associated with Hull.
The opening 2 weeks of 2017 will see loads of other free events for people to enjoy.
Martin Green, CEO and Director Hull 2017, said: "The ambition for Hull 2017 has been to create a year-long programme that speaks of the city, its people, their creativity and energy. With Made in Hull, artists have created an unmissable, immersive tapestry, which we hope will inspire, amuse and create an emotional response amongst everyone that experiences it.

"It's just the start of an amazing year that will see hundreds of events in every corner of the city, to be enjoyed by the people of Hull and visitors alike. We should acknowledge the role of everyone that has helped make this happen, Hull City Council for their investment and continuing vision, the people of Hull that backed the bid, the city's artists and cultural community and the many funders and other partners that have got behind this unforgettable year.'
SELECTED EVENTS IN JANUARY 2017

There will be a host of events in the opening weeks of 2017, many of them free. They include:

1 January Made in Hull. Spectacular free event involving artists' installations across the city centre. Runs 4pm-9pm each evening until Saturday 7 January (on until 10pm on 1 January). FREE.

1 January Born into a City of Culture - Hull and East Yorkshire Hospitals NHS Trust in
Anlaby Road will begin capturing prints of babies' feet born there to create a unique piece of artwork truly made in Hull, one of 60 projects funded through the Creative Communities Programme, which showcases local creativity and talent.

2 January Bowhead opens at Hull Maritime Museum, a lifelike audiovisual installation of a mighty Bowhead whale, highlighting Hull's whaling heritage. FREE

2 January REDboard Another Creative Communities funded project, REDboard sees contemporary art break out of the confines of traditional gallery space to bring 13 Hull billboards to life over the course of 2017. Celebrating 20 years of RED Contemporary Arts (formally RED Gallery), every four weeks, billboards across the city will be transformed into platforms for art, with local talent showcased throughout the year. FREE

3 January Lines of thought: Drawing from Michelangelo to now, A British Museum Partnership Tour, this impressive exhibition will feature works from some of the all time greatest artists from Dürer to Degas, Michelangelo to Matisse and Rembrandt to Riley. FREE

3 January Hull Charters In its first major exhibition of 2017, Hull History Centre tells the story of the first four centuries of Hull though its archives, focusing on its great collection of City Charters. Supported by Hull 2017 and the Heritage Lottery Fund. FREE

4 January Pot Luck at Früit in Humber Street runs alongside Made in Hull and invites
audiences to take a chance on a mystery night out that could see them being entertained by film, music, poetry, art and more. Ticketholders will be entertained by one of the following: an art night by Anna Bean and The Evil Litter; spoken word curated by Shane Rhodes with Luke Wright, Attila the Stockbroker, Joelle Taylor and Dean Wilson; a film night with Sean McAllister and a surprise guest; or live music, including Jody McKenna, Bud Sugar and others. Pot Luck is curated by Sean McAllister and runs from 4 to 7 January. Tickets are just £5 and on sale now to audiences aged 18 and over.

13 January Ferens Art Gallery opens to the public following a £4.5 million investment. It will open with a display of the permanent collection, including the unveiling of an outstanding new acquisition, Pietro Lorenzetti's Christ Between Saints Paul and Peter (c.1320), following extensive conservation and restoration at the National Gallery. Later in the month, Five major paintings by Francis Bacon, one of the undisputed giants of 20th century British art, will enhance a thematic display of portraits drawn from the permanent collection. The Hull Open Exhibition, showcasing the creativity of local artists, celebrating its 50th anniversary will also go on show, with works selected by Gabriel Finaldi, Director of the National Gallery, Hull-born actress, Maureen Lipman and sculptor, David Mach. FREE

21 January The world famous Brighouse and Rastrick Band will share the stage with local favourites East Yorkshire Motor Services Band for a spectacular concert at Hull City Hall.

22 January Anthony Minghella retrospective begins, including film screenings and exhibition at University of Hull, in conjunction with Hull 2017, BFI and BFI Hub North.

3 February Humber Street Gallery, a new contemporary art space will open in the Fruit Market cultural quarter. The first show will be COUM Transmissions, curated by Cosey Fanni Tutti and Cabinet, London. The show will present materials drawn from the archives of Cosey Fanni Tutti and Genesis P-Orridge, held by Tate Britain, alongside new filmed interviews with original COUM members. The live programme alongside the exhibition, curated with leading independent online music and arts publication, The Quietus, will include performances by Cosey Fanni Tutti and Genesis P-Orridge, club events, panel discussions and talks. Exhibition is free.