Hundreds Attend Funeral After M62 Shooting
6 January 2017, 18:56 | Updated: 6 January 2017, 18:59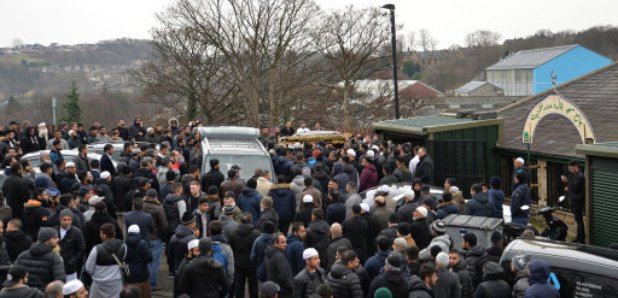 Hundreds of people have attended the funeral of a man who was shot dead by police.
The mother of Mohammed Yassar Yaqub was visibly distraught as family members were joined by scores of other people for prayers at a Huddersfield mosque.
Safia Bano had to be supported by relatives as the coffin with her son's body was carried out of the Masjid Bilal in Huddersfield before a burial at a nearby cemetery.
At the same time, a coroner in Bradford heard brief details of how father-of-two Mr Yaqub, 28, described as an office clerk, was shot by a police officer "in the execution of his duty'' on a slip road of the M62 near Huddersfield on Monday evening.
Bradford coroner Martin Fleming was told how Mr Yaqub was in an Audi car which was brought to a "hard stop'' by four unmarked police cars along with a Volkswagen Scirocco.
Coroner's officer Chris Dalby said one of the police cars, a Mercedes, collided with the Audi during the stop as it cut in front of the vehicle.
Mr Dalby told the three-minute hearing: "During the incident, an officer discharged a firearm in the execution of his duty, with the shots going through the windscreen of the Audi.''
He said a firearm was found in the front passenger footwell of the vehicle.
Mr Dalby said the vehicles were stopped at 6.10pm on Monday and Mr Yaqub was pronounced dead at 6.47pm. He was first identified with his fingerprints and then later by his sister.
A post-mortem examination revealed he died from gunshot wounds to the chest, the inquest heard.
In 2010, Mr Yaqub was cleared of attempted murder and a firearms offence after it was alleged that he opened fire on a car in Birkby Hall Road, Huddersfield.
Coroner Mr Fleming described his death as "very sad'' and adjourned the case until March.
At the same time as the funeral and the inquest opening were taking place, a 30-year-old man, Moshin Amin, was remanded in custody by magistrates in Leeds after he was arrested as part of the same police operation on Monday.
The funeral service in Huddersfield was attended by too many people fit in the mosque and there were emotional scenes in the street outside.
Mr Yaqub's coffin was carried into and out of the service through the men's entrance and mourners embraced as they paid their respects.
Banners have been placed at the scene of the shooting by campaigners criticising the police actions.
Earlier this week, Mr Yaqub's father, Mohammed, told Sky News: "I don't feel like he was a risk at all. I believe he was a target and it was a pre-planned assassination.''
The Independent Police Complaints Commission (IPCC) is investigating the death and said none of the officers involved were using body-worn video cameras during the stopping of the white Audi in which Mr Yaqub was travelling.
:: Moshin Amin, of Broomer Street, Dewsbury, appeared before magistrates in Leeds charged with possession of a firearm with intent to cause fear of violence, possession of a sound moderator and possession of ammunition.
Two men, aged 37 and 26, who were also arrested on Monday evening, have been released on police bail pending further inquiries.