Yorkshire Braced For Storm Frank
29 December 2015, 13:29
After a weekend of heavy rain brought flooding to much of Yorkshire, the region's braced for more rain, with a warning in place ahead of Storm Frank.
Gales and downpours are forecast to sweep back in this evening and tomorrow.

The good news is, Cumbria and southern and central Scotland are most at risk of more disruption, meaning Yorkshire should escape the worst of it.

Marco Petanga's a forecaster with the Met Office and has been speaking to Heart:

Meanwhile, following the heavy rain from Storm Eva over Boxing Day weekend, a road bridge in West Yorkshire has been closed after the carriageway crumbled and collapsed after the floods.

Elland Bridge, a busy route between Elland and Brighouse, near Huddersfield, could take months to repair.

The road surface on the bridge, which crosses both the River Calder and Calder and Hebble Navigation canal, is understood to have partly collapsed in the early hours of this morning.

Roads onto the bridge have been closed by police and Calderdale Council said diversions are in place due to "structural concerns''.

A huge clean-up operation continues in Yorkshire following the Boxing Day floods.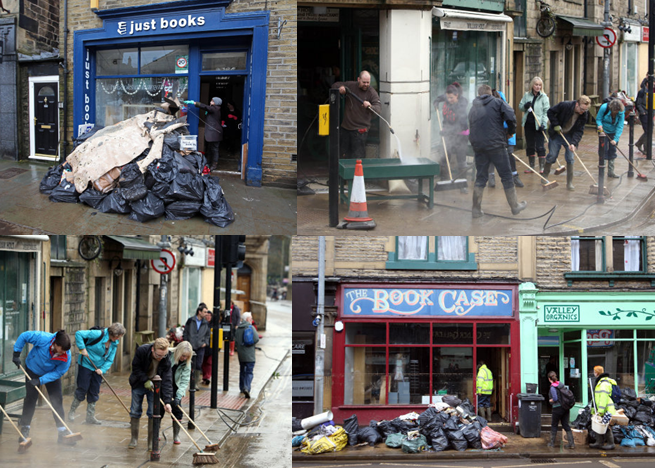 PICTURED: The clean-up operation in Hebden Bridge following Storm Eva

Meanwhile, flooding in York has inundated the city's well-known Jorvik tourist attraction for the first time in its 32 year history.

The exhibition features an underground ride around a mock-up of a Viking city. But on Tuesday, forlorn groups of mannequin families and warriors were stood in the dark, stranded in more than a foot of dirty river water.

Director of attractions for York Archaeological Trust, which owns the centre, Sarah Maltby said the staff at the centre built a barricade on Sunday to keep the water back from the flooding River Foss.

Ms Maltby said this enabled important artefacts to be saved. But she said the water just kept coming in on Sunday night, through the floor and walls.

She said:
"This is actually a reconstruction of the River Foss, a wharf scene of the River Foss, which is now around our feet,'' she said.

People usually ride around this in our capsules to commentary, smelling the smells, seeing the sights, hearing the sounds and, of course, that's all gone.

In the 32 years that Jorvik has been open, it has never flooded before.

We are devastated by the scale of the water incursion in what, until now, had been a watertight basement.''

She said the first job would be to pump out the hundreds of litres of water so a proper assessment can be made of the damage.

But she said Jorvik will closed for the foreseeable future.