Yorkshire Routes for the Road Cycling World Championships Announced
26 September 2018, 19:00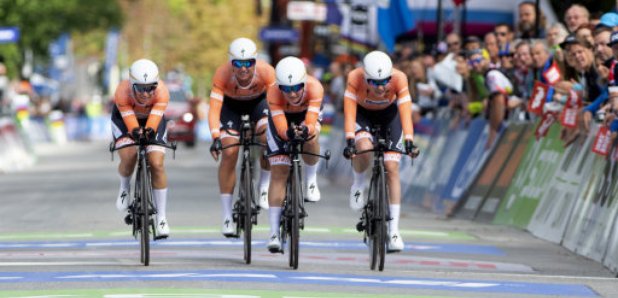 The routes taken during next year's UCI Road Cycling World Championships – hosted in Yorkshire – have been announced at a special ceremony in Austria.
For nine days next September, the best of the very best road cyclists will colonize 'God's Own Country' – with Harrogate chosen as the finishing line on each of various races.
The UCI Road Cycling World Championships form one road cycling's three crowning events – the other two being the Giro D'Italia and the Tour de France. Previous competitors at the Championships include Geraint Thomas, Chris Froome and Sir Bradley Wiggins.
Organisers say Yorkshire's success with the Tour de France, and of course, the Tour de Yorkshire was one of the main reasons the county was chosen as host.
The event is made up of various different forms of road bike racing, including individual and team time trials, as well as the out-and-out bike races usually ending in a dramatic sprint for the finish line.
To add to the excitement, the World Championships also serve as an opportunity to earn qualification points for the Olympics, being held in Tokyo the following year.
Yorkshire 2019 will also see the making of sporting history, as men and women will race in a mixed team time trial relay for the very first time.
The championships will start with a day of Paralympic-style 'para-cycling' racing, on Saturday 21st September.
Sir Gary Verity, Chief Executive of Welcome to Yorkshire, helped to plan the routes taken by the riders. He said: "The countdown is now well and truly on and there will be many people in Yorkshire and across Britain who are looking forward to this iconic event. We can promise huge, passionate crowds, stunning scenery and epic racing.
"We have worked hard with the UCI to design a challenging and spectacular range of routes which take in all four corners of the county."
Organisers are also promising a 'legacy' fund of than £15m which will be spent on building brand new grassroots cycling facilities across Yorkshire and the rest of the country.
Here's the full schedule for the UCI Road Cycling World Championships:
Day 1: Saturday 21 September: Beverley-Tadcaster-Wetherby-Harrogate Circuit – Para-cycling Road Races (C1 Event)
Day 2: Sunday 22 September: Harrogate Circuit – Team Time Trial Mixed Relay – 28km (two circuits)
Day 3: Monday 23 September: Harrogate Circuit – Women Junior Individual Time Trial – 14km (one circuit) and Men Junior Individual Time Trial - 28km (two circuits)
Day 4: Tuesday 24 September: Ripon to Harrogate – Men Under 23 Individual Time Trial – 32.5km (route plus one circuit) and Women Elite Individual Time Trial – 32.5km (route plus one circuit)
Day 5: Wednesday 25 September: Northallerton to Harrogate – Men Elite Individual Time Trial - 54km (route only)
Day 6: Thursday 26 September: Richmond to Harrogate – Men Junior Road Race – 144.5km (route plus three circuits)
Day 7: Friday 27 September: Doncaster to Harrogate – Women Junior Road Race – 91.5km (route only) and Men Under 23 Road Race – 192.5km (route plus three circuits)
Day 8: Saturday 28 September: Bradford to Harrogate – Women Elite Road Race – 149.5km (route plus three circuits)
Day 9: Sunday 29 September: Leeds to Harrogate – Men Elite Road Race – 284.5km (route plus seven circuits)