Dixie & Emma's Big School Showdown 2017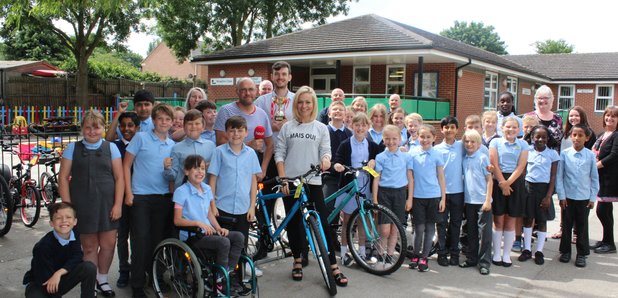 46 Teachers, 10 Weeks... One Incredibly Fast Time! We did it - we finally found Yorkshire's smartest school!
That's right, we we embarked on a journey. A journey that took us the length and breadth of Yorkshire, with one goal in mind... to find Yorkshire's Smartest School! 10 weeks later we found them - in Wakefield!
Mr Wootton, a year five teacher at Wakefield Methodist Junior, Infant & Nursery School answered all 10 questions correctly in 23 seconds, topping our leader board! Many other schools tried and failed to beat Mr Wootton's super-fast time - some came within a second of beating him, but he was just to quick, crowing Wakefield Methodist School the winners!
Dixie & Emma visited the primary school on a beautiful sunny afternoon in July with our friends from Wilco Motosave to deliver over 30 bikes - and a very happy Mr Wootton!

A big thank you to the guys at Wilco Motosave, who generously provided the prize haul of ready-to-ride bikes and helmets generously provided by Wilco Motosave and Oxford Products. Colin Cuttress, Cycling Training and Development Manager at Wilco Motosave added: "We are so happy that the bikes have gone to such a lovely local school. Well done to all who entered."

CONGRATULATIONS MR WOOTTON AND EVERYONE AT WAKEFIELD METHODIST SCHOOL!