Homecoming Parade For Devon Troops
More than 2 hundred men from 24 Commando Engineering Regiment marched through the town of Braunton on Thursday.
The town wanted to recognise the work the men had achieved during their 6 month tour of duty in Afghanistan.
They had worked in grueeling condition sometimes as high as 50 degree Celcius to build bridges, bases and help reconstruct the infrastructure of the country.
All of the regiment came back safe and well.
Hundreds of well-wishers, family and friends lined the route through the centre of the town to catch a glimpse.
Our reporter Andy Ballantyne spent the afternoon in the town - to hear his report: LISTEN HERE
24 Commando are the first Devon troops to return from Operation Herrick 14.
Recently Played Tracks
4pm - 7pm
Text 'DEVON' to 82122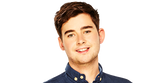 Stay tuned...
Now playing: The best feel good music
Deposit £10 to get a £40 Welcome Bonus - That's £50 to play bingo, slots and more!*
Over 50 tracks to make you feel-good. New album out now...