Drivetime
Join Gareth Wesley, every weekday from 4pm for Heart Drivetime across Herts, Beds, Bucks and Northants!
Win With Heart Drivetime!
Love all things 80's and 90's Music? Bedford is throwing one big party on Friday 4th August and you could be winning a VIP meet & greet experience on us!
We were thrilled when viral video sensation Olly the Jack Russell from the Blue Cross in Kimpton joined us at Heart today!
Ever been frustrated at the speed some public transport moves? This guy was, so he ran and managed to out run the Tube!
Recently Played Tracks
9am - 12pm
Text 'HEART' to 82122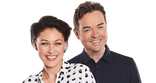 Stay tuned...
Now playing: The best feel good music