Cambridge: Firefighter Training Centre
A £500,000 training centre for Cambridgeshire's firefighters is going to be built.
Building work on the facility, which will be at the Milton Industrial Estate near Cambridge, will start soon.
It will replace the training centre at Parkside Fire Station, which is being redeveloped and will not have a training centre when it is re-built.
The new training centre will have space to practice cutting dummies out of cars following road traffic collisions, a tower which can be filled with smoke and a large building to simulate fires in houses, shops and warehouses.
Building work is expected to start soon and the new facility will be ready to use in July, according to Cambridgeshire Fire and Rescue Service.
Ryan Stacey, Group Commander for Cambridgeshire Fire and Rescue Service said: "We have worked closely with firefighters when designing the facilities here which has meant they are ideally suited to our training needs.
As always when we build in a new area we have involved nearby businesses in the development of our plans to ensure they are happy with what we are planning to use the site for.
This is an exciting addition to our training facilities which will give crews the opportunity to practise a wide range of different scenarios in realistic conditions."
Assurances that merging Cambridgeshire and Suffolk fire control rooms "poses no risk to public safety".
Parkside Fire Station to be demolished and re-built in Summer 2011.
Recently Played Tracks
6am - 10am
Text 'MUSIC' to 82122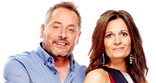 Stay tuned...
Now playing: The best feel good music
Deposit £10 to get a £40 Welcome Bonus - That's £50 to play bingo, slots and more!*
Over 50 tracks to make you feel-good. New album out now...