Halloween with Kev and Ros
Check out Kev and Ros's spooky video Wednesday morning – but will it make you jump?
Kev and Ros are really getting into the spirit of Halloween.

Kev has learned some new things about about Trick or Treating...

They have even been out to make a spooky Halloween video for you to enjoy, tune in Wednesday morning for more spooky fun and check out the video below from 6am


Kev and Ros show off their spooky side
Recently Played Tracks
4pm - 7pm
Text 'MUSIC' to 82122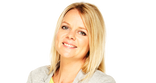 Stay tuned...
Now playing: The best feel good music