Carbis Bay: VIDEO Of Seal Release
Battered by recent storms there have been a high number of seals being washed up on the coast in Cornwall.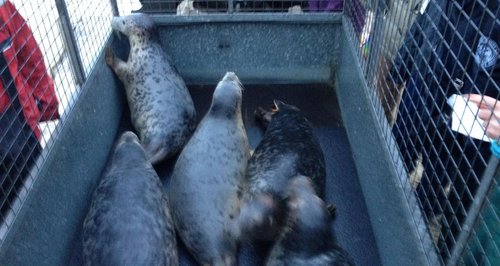 Most were pups when they were dumped on beaches, roads and even gardens in one case in Portreath.
The ones that have been rescued were sent to the Gweek seal sanctuary where a vet assessed their injuries.
There have been 3 broken jaws, numerous broken flippers and plenty of flesh wounds caused by the sharp rocks.
But with a break in a weather the ones that were strong enough to be released have now gone back into the sea.
They have to weigh at least 45 kilos else they will not survive the harsh conditions.
Monday February 17th 7.30am at Carbis Bay seals - Mars, Moon, Orion, Indus, Miranda & Crater.
Crater decided he would play up to the crowd watching and din not want to go back - it took around 20 minutes to convince him.
At Gunwalloe on Tuesday 18th at 8am it was time for Milkyway & Solar to be released back into the water.
More than 1,000 jobs secured at helicopter company
Recently Played Tracks
12am - 1am
On TV:

Countdown To British Summer!

12am - 4am
Discover this season's unmissable TV like Critical, and win Sky TV free for a year
Get a 200% Welcome Bonus. Deposit £10, get £30 to play! T&C's apply.
See this weeks' fantastic deal on your next family holiday. Book NOW!