Alexandra's Race for Life T-shirt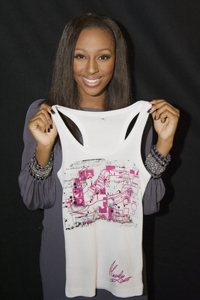 Alexandra Burke has turned from singer to designer for this year's Race for Life.
She's put her personal stamp of approval to the celebrity T-shirt produced for the event.
The white vest top takes its style influence from the inner city streets, referencing hip-hop with a feminine twist and finished off with the personal touch of Alexandra's signature in the corner in hot pink.
The shirt is a must-have for any discerning fashionista's wardrobe, as well as representing the strong spirit and energy of Race for Life.
Buy your own limited edition Race for Life t-shirt when you enter for Race for Life at www.raceforlife.org.
It's priced at £15.00. All of the profits from the t-shirt will go directly to help fund Cancer Research UK's life saving work.