Bomb Team Discover Items In St Albans
17 September 2014, 14:44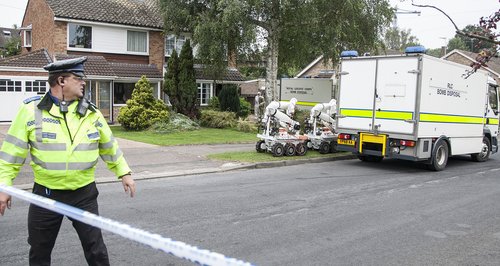 Police and army officers are conducting a search for explosives at a house in St. Albans.
A cordon has been placed around the area in Windmill Avenue while they search for items dating back to the First and Second World Wars.
A collection, which included gas masks, military uniforms, a British flag and a WW1 machine gun were found inside a garage.
Hertfordshire Police say it could be necessary to remain at the site for up to 48 hours, while a thorough search is carried out and experts assess the safety of items found.
A 48 year old man has been arrested on suspicion of theft of ordnance explosives taken from a former Prisoner Of War camp at Batford, in Harpenden.
St Albans Chief Inspector Ken Townsend: "This seizure is on an unprecedented scale and it will be a long process.
It is an extremely large collection.
Although the items seized today are potentially dangerous, there is no danger to members of the public.
We have all the necessary experts in place to deal safely with the items recovered.
The EOD will be carrying out controlled detonations this afternoon.
This will be heard in the local area, residents need not be alarmed."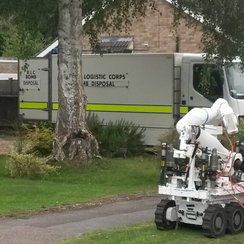 In the investigation of this operation, Hertfordshire Constabulary has been working closely with English Heritage.
Mark Harrison, National Policing and Crime Advisor for English Heritage said: "The practice of illegal metal detecting or stealing artefacts from the ground, particularly from conflict sites relating to the First and Second World Wars, is an issue that English Heritage takes very seriously.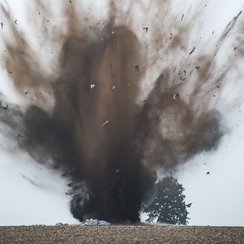 "We recognise that the majority of the metal detecting community comply with the laws and regulations relating to the discovery and recovery of objects from the land. This operation sends out a clear message that we are prepared to take action and do what is necessary including, working alongside the police, to bring those responsible to justice.
This is the first time that a co-ordinated partnership involving the military, police investigators, finds experts, archaeologists and prosecutors have been used to tackle this form of criminal activity."