Xscape's BIG Summer Blow Out!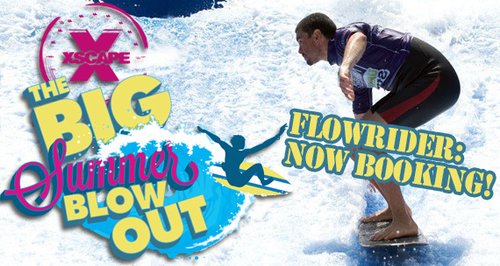 If you're looking for action and excitement this summer then get ready to play, eat and shop as the 'Big Summer Blowout' comes to Xscape in Milton Keynes right though to Sunday 1st September!

To celebrate a great summer at Xscape and the arrival of the Quiksilver Flowrider, we're giving you the chance to WIN BIG at Xscape with our Heart Angels - check out how you can be a winner below!
Xscape, is the ultimate entertainment destination offering a unique combination of extreme sports and leisure activities for all ages. Where else can you find the country's biggest indoor REAL snow slopes, Europe's first purpose-built body flying tunnel, rock climbing walls, bowling, multiplex cinema, gym and fitness centre, numerous bars and restaurants and urban retail outlets all under one roof?
And this summer holidays Xscape MK is definitely the coolest place to be, as there's a whole lot more going on with the Big Summer Blow Out.
There's fun on the indoor beach everyday between 12pm and 6pm and the chance to enjoy the surfing vibe with FREE local live bands and family entertainment.
Plus check out the great offers and summer activities at the Sno!Zone, fantastic discounts in a selection of stores and restaurants and hey dude, lets not forget the surfing action with the Quiksilver Flowrider where you can try out your skills on real waves. Take a look at Matt from Heart giving it a try on the video below!
Win with the Heart Angels

The Heart Angels will be at Xscape on Friday 30th and Saturday 31st August with a great prize bundle to be won.
Catch up with them between 11am and 3pm for FREE face painting and beach games and make sure you register your details with them to get into the PRIZE DRAW for the chance to win your own family's Bid Summer Blow Out with all this fun from Xscape:
• Family Ski Lessons at Sno!Zone
• 4 Cinema tickets to Cineworld
• 4 Pizza Express vouchers
• Family Climbing Wall Sessions at Ellis Brigham Climbing Wall
• £40 in Frankie & Benny's restaurant vouchers

Check out the photos below, they'll be adding more for each of their visits and could snap you!
Heart Angel Competition Terms & Conditions

| | | |
| --- | --- | --- |
| | | |
---
Marlborough Gate,
Milton Keynes, MK9 3XS
More snaps from the Big Summer Blow Out
The Heart Angels were at Xscape again this weekend joining in all the family fun at the Flow Rider and on the Beach!
Xscape - Big Summer Blow Out
The Heart Angels took lots of fantastic photos at the indoor beach at Xscape MK! Check them out here!

Live Top 10
1

Mr. Probz

Waves (Robin Schulz Radio Edit)

Listen to a clip of "Waves (Robin Schulz Radio Edit)"

2

Kiesza

HIDEAWAY

3

Sigma

Nobody To Love

4

Cash Cash

Take Me Home (feat. Bebe Rexha)

Listen to a clip of "Take Me Home (feat. Bebe Rexha)"

5

John Legend

All Of Me

Listen to a clip of "All Of Me"

6

Tove Lo

Stay High (feat. Hippie Sabotage) [Habits Remix]

Listen to a clip of "Stay High (feat. Hippie Sabotage) [Habits Remix]"

7

Shift K3y

Touch (Radio Edit)

8

Neon Jungle

Welcome to the Jungle

Listen to a clip of "Welcome to the Jungle"

9

DJ Cassidy

Calling All Hearts (feat. Robin Thicke & Jessie J)

Listen to a clip of "Calling All Hearts (feat. Robin Thicke & Jessie J)"

Download "Calling All Hearts (feat. Robin Thicke & Jessie J)" from iTunes

10

Aloe Blacc

THE MAN