Heart Breakfast goes a bit Bond crazy!
Here on Heart we have gone a bit Bond crazy. One listener won two tickets to be one of the first in Gloucestershire to see the new Bond film, and in the spirit of all things 007 we have created some great Bond-esk things for you!
Check them out below:
1. Fancy having your own Bond gadgets, then have a little listen to this:
2. Fancy actually being James Bond then here are some tips:
3. Listen to showbiz Jo speaking to Warren about her Daniel Craig interview:
Showbiz Jo speak to Warren about Daniel Craig interview
4. Warren got a surprise call from the one and only evil Bond villain, Bloefeld!
Warren gets a surprise call...
5. Finally Warren created his very own 'Goldfinger' parody... and let's just say his version has been hit by the recession!
Also if you are as excited as we are at Heart about the new film, check out some of our galleries below!
Click here to go back to Heart Breakfast:
Top 10: Best Bond Movies
With Skyfall now the most successful film ever in the UK, the nation votes for their favourite 007 films. Find out the top ten James Bond movies!
Skyfall 007: The Royal World Premiere
Skyfall, the 23rd film in the James Bond series, sees Daniel Craig as 007 for the third time on the big screen. See all the photos from the World Premiere in London here
Listen back to the entire season of the Adventures Of Bruno Mars Bar here!
Recently Played Tracks
4pm - 7pm
Text 82200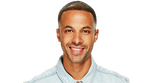 Stay tuned...
Now playing: The best feel good music