Poplar Police Car Crash
5 June 2014, 19:09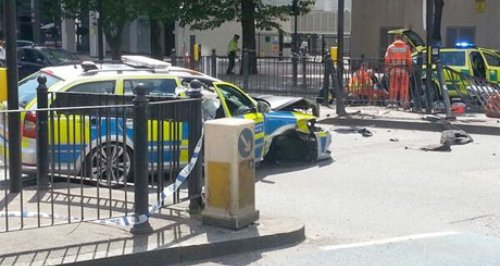 Two police officers, a motorbiker and three people who were nearby have all been injured in a crash in east London.
The 27 year old motorcyclist was taken to hospital with suspected head and leg injuries following the crash in Poplar on Thursday 5 June 2014.

Scotland Yard said the nature of the injuries suffered by the two Pcs in the car and their condition are unknown.

Three pedestrians suffered minor injures from "flying debris", a spokeswoman said.

An air ambulance was sent to the scene and five patients were taken to hospital, London Ambulance Service said.

Photographs of the aftermath of the crash showed the badly mangled bonnet of the marked police car while its windscreen appeared to be shattered.

Personal trainer Juta Steel said she heard a loud bang from outside the gym where she works.

"We came out and there was the police car with a smashed front and windscreen and then about 50 metres away there was a motorbike.

"There was one person in the road. It looked like he was unconscious and the ambulance came and worked on him for around 25 minutes. Then the air ambulance came. Before they took him away he seemed to be moving so I assume he was conscious."

The 27-year-old, from west London, said the damaged police car stopped near a crossing.

Eyewitnesses described the scene on Twitter.

Kaysar Ahmed said: "fron (sic) end of police car totally destroyed after collision with motorbike."

Another user wrote: "Just witnessed a horrific collision involving a police car and 4 people in Poplar. Shaken me right up. Pray they are ok."

A Met Police spokeswoman said: "Police were called at 13:22hrs to reports of road traffic collision between a police car and a motorcycle."

She said road closures have been put in place and no one had been arrested.