You've Raised £1,955,869 For Global's Make Some Noise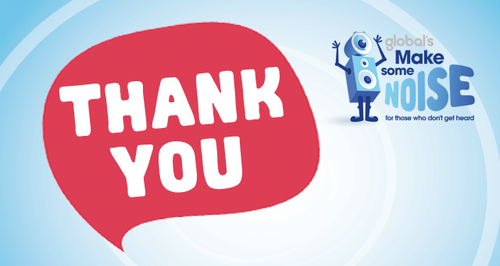 On Thursday October 8th, you helped raise an incredible amount of money to fund amazing charities and projects - helping make some noise for those who don't always get heard.
You raised much needed cash in a bid to take home some fantastic prizes, including everything from a trips to LA and New York to ring side seats at the Rugby World cup - things money simply can't buy!
What's more we had special guest appearances from the likes of Ed Sheeran, Jamie Lawson and Olly Murs to name a few, plus loads of fun and games!
An amazing amount has been raised to help disadvantaged children right across the UK, all thanks to YOU!
Forget the fiddlers on the roof, we had choirs and plenty of showbiz guests on the roof top at Heart Towers in London's Leicester Square!
Listen to the final montage of the day:
Please dig deep and make your kind donations below:

THANK YOU!