Blooming Marvellous! First Peek At Orlando Bloom's Secret Instagram Account
The hunky British actor has FINALLY set his personal Instagram account from private to public...and the photos are AWESOME.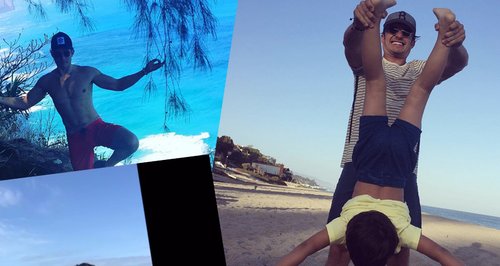 Despite having Instagram since last summer, the 39-year-old 'Pirates of the Caribbean' star has previously only allowed a select few to view his photos.
Now however, the actor has opened up his account for everyone to enjoy...and we couldn't be more pleased!
After posting a picture which simply reads "I caved", fans have since been able to oggle the star's private life.
The bio reads: "...one human being grateful to be living this life experiment..." and seems to sum up Orlando's unique outlook on life.
Here he is getting his Baywatch on...
You're welcome.
What's more, it seems we're not the only ones who are fans of the account.
Bloom's former Mrs, supermodel Miranda Kerr even commented on one of his pictures: "Nice one".
How about this one of him doing an insane back flip:
The snaps aren't just all sexy, topless pics though.
The hands on dad-of-one has also posted quite a few cute father-son shots of playtime with his young son, Flynn Christopher Bloom.
Melting, us?
Getting top dad points:
Your one-stop shop for all information about the upcoming 'Star Wars: The Last Jedi'.
The 33-year-old singer and her One Direction beau Liam Payne welcome a bouncing baby boy into the world.