Race For Life 2012: Suffolk and Norfolk
16 March 2012, 06:00
An Ipswich sixth-former who was diagnosed with cancer while studying for her AS levels is helping to launch Race for Life 2012.
Rebecca Blackman, 19, from Stonam Aspal, took part in Ipswich Race for Life last year while recovering from cancer treatment.
She hopes her story will inspire around 3000 women to take part in the 5k eventthis year and raise vital funds for research into cancer.
Rebecca was diagnosed with Hodgkins Lymphoma after finding a lump in her neck while revising for her AS levels in May 2010.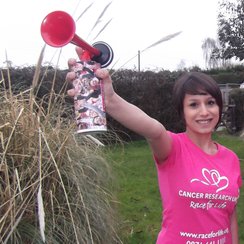 Describing the moment when she first felt her tumour, Rebecca said: 'I had been feeling really tired and was finding it difficult to concentrate on my schoolwork, but I didn't really know there was anything wrong with me. My mum was sitting with me trying to help me revise and, to be quite honest, she was being a bit irritable with me because she couldn't understand why I was being so lacklustre about my work. 'I was flopping forward on the table and resting my neck on my hands when I felt it. it was quite sizeable, like a hard rubbery ball in my neck. I told my mum and her attitude changed in an instant. From being cross with me she became extremely concerned and anxious about the lump.'
Rebecca had to put her education on hold while she underwent treatment. She was unable to attend school and had to postpone her AS level studies for a year. Chemotherapy made her feel very unwell, but her tumour responded so quickly to the treatment that she was allowed to have a reduced amount of chemotherapy followed by radiotherapy.
Rebecca's treatment finished in February 2011. Now, a year later, she is in remission, enjoying having hair again and is currently studying for A levels in Pscyhology, English, and History. She hopes to go to university next year to study to be a primary school teacher.
Rebecca Blackman - with Heart's Holly Jones
In 2011, 2,766 women took part in Race for Life in Ipswich and helped raise £165,000. This year, organisers want 3000 women and girls to put their best foot forward at Chantry Park and help raise £194,000 for vital research.
Cancer Research UK receives no Government funding for its ground-breaking research. So money raised through Race for Life is crucial to the pioneering work of doctors, nurses and scientists who are fighting cancer on all fronts. Thanks to research into cancer, hundreds of thousands of lives have already been saved. With help from the people of East Anglia Cancer Research UK intends to save many more.

Race for Life events in Norfolk and Suffolk
Ipswich - Chantry Park - Sunday 17 June 11am
Bury St Edmunds - Nowton Park - Sunday 24 June 11am & 2.30pm
Norwich - Norfolk Showground - Saturday 19 May 10am (10k) and 2pm - Sunday 20 May 11am