Win Pizza Free For A Whole Year With Oscars Pizza Company!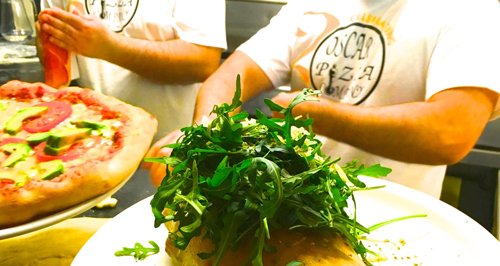 Attention all pizza lovers! Your prayers are about to be answered!
We have teamed up with Oscars Pizza Company to give you the chance to win pizza free for a whole year, in celebration for their 20th birthday!
Oscars Pizza Company is a Sicilian owned family restaurant founded in 1996 by Tony Russo. After 20 years, they are still going from strength to strength. They pride themselves on consistently putting out high standards of food, provided at affordable prices, in a friendly, informal atmosphere.
What could possibly tingle your taste buds more than a £50 voucher each month to spend in house or take away for 12 months!
All you have to do for a chance to win this ravishing, round, topping-covered bundle of joy is scroll down the page to find our special Oscars Pizza Game! Have a go and see how accurate you are at cutting our virtual pizza (you can't eat this one). The person with the highest score will be the recipient of possibly one of the best prizes ever… Free pizza for an entire year!
UPDATE: Due to an error in the game, the first week's entrants weren't validated. If you entered in the first week, please enter again to be in with a chance to win. You can enter as many times as you want so keep pushing for that high score!
Just remember, when you've had a go- make sure you register your score so we can see how well you did. Also available to every entrant is a pizzatastic money off voucher if you sign up to hear more from Oscars Pizza Company.
Happy Birthday to Oscars Pizza Company and a very happy year for a lucky pizza lover!
The winner will be announced on the 13th of December.
Click here for more information about Oscars Pizza

Click here to see full terms and conditions