Pirate Party Tips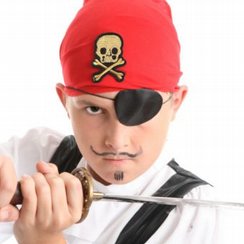 Man the rigging, scrub the decks and prepare yourself for a slap up party!
If you want to throw a pirate themed party for your kids – find some great tips and ideas here!
Then invite all your children's class mates and even ship mates aboard and all the mums and dads will be green with envy.
The Invites

These don't have to be expensive. There are some brilliant invites available from party stores, but you can make your own by simply using your home computer to create the invite with pirate images and the important details.

Then simply print them off and roll as scrolls for your little pirate to hand out at school to all of their ship mates.

Decorations


Imagine oceans, palm trees and treasure chests!

Treasure Chest – Fill with sand and hide chocolate coins and treats for the tiny Pirates to dig and find!
Palm Trees – use these on the walls to help create the perfect island setting.
The Sea – Blue fabric with cut outs or plastic sea life stuck to it make the 'ocean'. Add real sand if its outdoors or yellow fabric indoors to create the shore.
Decorate – pick up some pirate bunting/plates and napkins from online party stores to finish off the pirate look! You can also throw in black or skull and crossbones balloons for an added effect.


Pirate Grub

All good pirates need to eat, so here are some ideas on pirate party food...

• Birthday Cake – Skull and Cross Bones, Treasure Chest birthday cakes can be made from a simple sponge recipe.
• Cupcakes – Use black or blue icing and pop "pirate cake toppers" on for a great effect with minimal effort. We like little flags the best!
• Party food - Try and stay traditionally pirate, so big overflowing bowls of fruit, chicken drumsticks, pirate pizza, and bread rolls to keep the "Ahoy! rough and ready" theme.
• Soft drinks served in goblets will help set the scene!

Costumes

All good fancy dress stores will stock pirate costumes, but you can also make your own at home...

• Stripey tops are a must!
• Use a scarf or some bright material as a bandana
• If they have any old trousers, fray the bottom or roll them up
• Throw in an eye patch and you're pretty much there!
And of course no party is complete without games
so here's a few swashbuckling ideas:
Captain's Calling!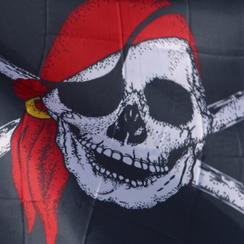 For 3 players or more. Create a list of seafaring commands e.g. Pull up the lifeboats, Take down the sails, Walk the plank, Mop the decks, Scan the horizon, Cast a fishing rod, Dance a jig...

Then choose a Captain. Each round begins with the players standing at attention, giving salutes. When the captain calls out "At ease," the players can drop their hands to their sides.

The captain begins to call out sailing-themed commands, and the players pretend to do them -- but only if the captain has first called out "Attention!" and they have saluted. If a player follows a command when he was supposed to be at ease, it's man overboard for him. The last crew member left standing wins and becomes the new captain.
Cannonball Blast
• Tie a black balloon (cannonball) to each mini pirates ankle.
• The kids have to try to "explode" the other pirates' cannonballs without having their own popped. Simple but effective – can get loud!
Capture the Pirate Flag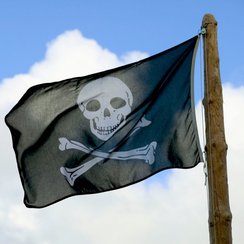 • Divide into two teams, each with their own flag & "island."
• Pirates then hide their pirate flag somewhere on their island.
• The idea is to find the other teams flag and bring over to your team's island.
• If one pirate (carrying the flag) is tagged by the other teams pirate, he is sent to a 'deserted island' where a tag from his own teammates rescues them!
• First team to get the other team's flag onto their own island wins! Great game for outdoor parties or venues with lots of room.

Pirate Colours
If you want a bit of peace and quiet for a few minutes, sit all the little pirates down with a pile of crayons and felt tips and get them to colour in our Pirate poster, download how ever many you need via the link below.
Have a great pirate party!
If all this sounds a bit too much effort then why not simply take all the kids to the see Robinson Crusoe and the Caribbean Pirates at the Birmingham Hippodrome!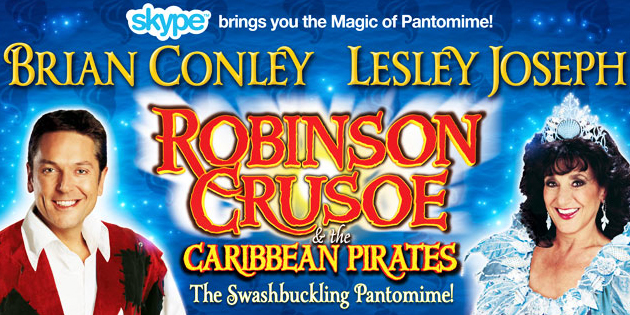 Splice the mainbrace, pull up the anchor & book your tickets for Birmingham Hippodrome's swashbuckling pantomime adventure Robinson Crusoe & the Caribbean Pirates.
Will Blackheart the Pirate manage to steal the treasure map from our hero Robinson Crusoe? Will Robinson Crusoe manage to defeat the mighty sea monster?