Weather Update
When the weather closes in, or the pipes burst, we've got the latest information in the West Midlands.

Listen to Heart using the LISTEN TO HEART button above and we'll give you latest news and updates on the situation in the West Midlands.

Heart Breakfast, 6am-10am, will have the very latest at Breakfast and Steve Denyer on your way home 4pm-7pm, will update you with any fresh info for the next day.
Get all the latest weather and traffic information plus any school closures here...
Recently Played Tracks
4pm - 7pm
Text 'STUDIO' to 82122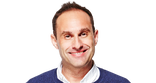 Stay tuned...
Now playing: The best feel good music
Deposit £10 to get a £40 Welcome Bonus - That's £50 to play bingo, slots and more!*
Over 50 tracks to make you feel-good. New album out now...