Ben & Kirsten's First Week: Behind The Scenes
Get to know Ben & Kirsten - the new way to wake up in Wiltshire!
From kids' TV to waking up Wiltshire - how did Kirsten arrive at Heart Breakfast?
Thursday: With the new breakfast show nearly complete, Ben starts to get trigger happy about gunging Kirsten.
Recently Played Tracks
1am - 6am
Text 'HEART' to 82122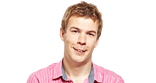 Stay tuned...
Now playing: The best feel good music