The Jubilee: How will you celebrate?
31st May: I have to admit something.
I don't know if this is something I should write here, but I'm going to do it anyway. You may judge me...
I am (drum roll please) a Fair Weather Fan.
This applies to EVERYTHING. Football? Yes. Tennis? Yes. Olympics? Yes. Jubilee? Yes again.
I don't like football. I'm not particularly into tennis and I don't know very much about The Olympics. But Every. Single. Time a big event happens I just can't help myself. I get sucked into the national excitement just like everyone else.
The exact same thing has happened with the Jubilee.
I wasn't excited about it until last week. I looked on as my friends got caught up in Jubilee Frenzy, buying up every Union Jack themed product they could find. I rolled my eyes as my neighbours told me with glee that they'd bought ten thousand reams of Jubilee bunting to cover their house. I shrugged my shoulders as my mum suggested we attend a Jubilee party in my parents' home village down in Devon.
But oh - how the tables have turned!
I am officially Jubilee mad.
As I was driving home from work the other day I spied a man up a ladder, hanging bunting over his pub. A little further on, I drove past another man up a ladder, being directed by a woman on the ground (probably his wife) as he hung flags around their shop window.
And it gripped me. I have become the latest victim of Jubilee Frenzy. I can't wait!
I'm not the only one. Jez has put a Union Jack flag up in his garden (hanging from his weather station - I know, don't ask)...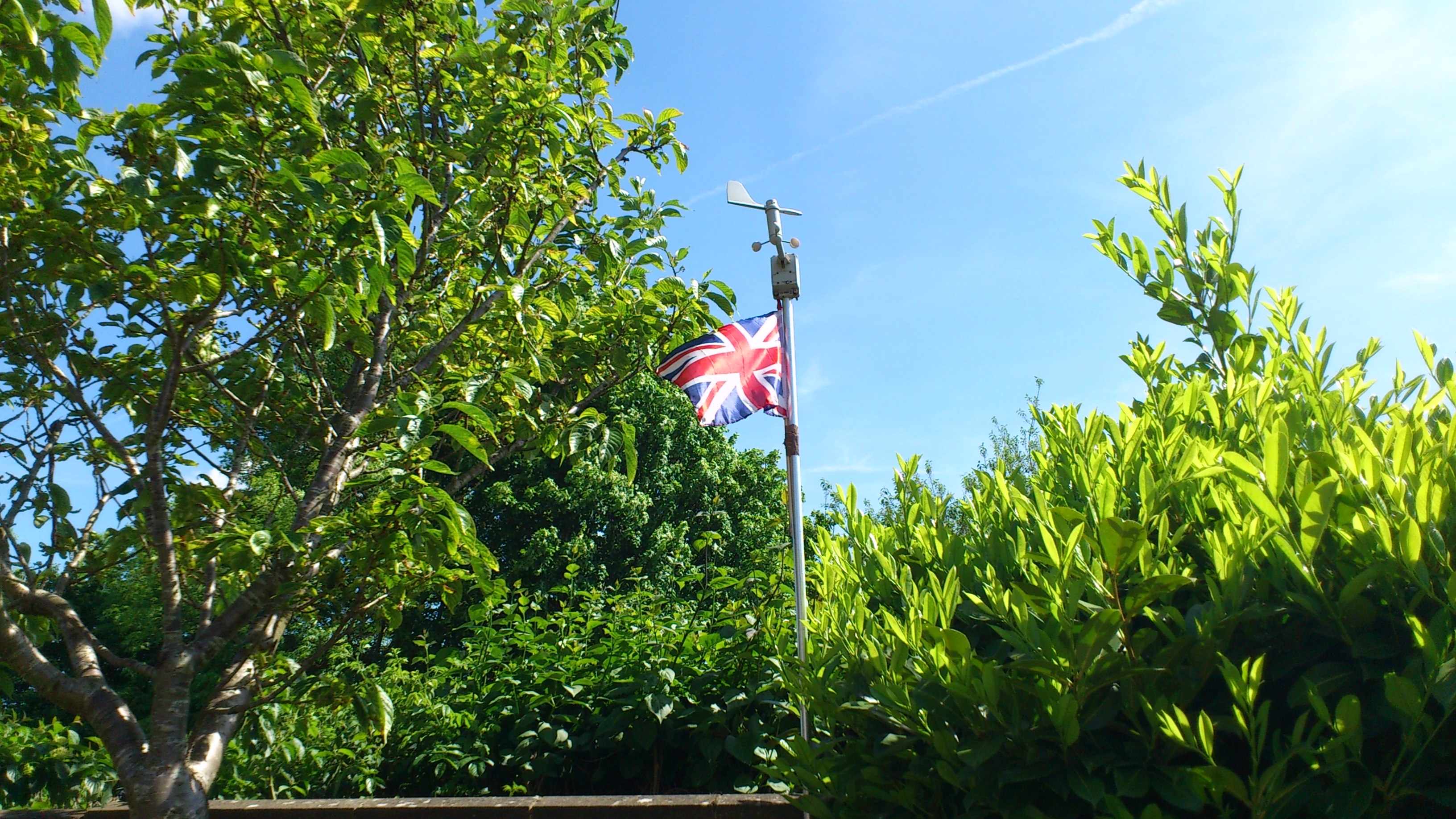 ...and Producer Adrian is going to London to soak up the atmosphere in the capital.
As I was shopping the other day I *almost* bought a Union Jack dress - and I've got a red, white and blue outfit for my little girl to wear to the Jubilee fete we're going to on Saturday.
On our Facebook page we've been inundated by excitement, and I must admit I've been inspired by some of the ideas on there. Emma, for example, is painting Union Jacks onto her nails and Kerry's son has been making flags all week to hang in the garden.
So, what are you doing for the Jubilee? And how have you been preparing for the long weekend?