Meeting A Superstar
So what is it like being asked to go on stage with Robbie Williams?
Not only that, getting to go in his bed too ;) - have a look here!
Listen and win your tickets to see Robbie live, only with your brand new Heart Breakfast.
Recently Played Tracks
6am - 10am
Text 'WILTS' to 82122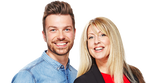 Stay tuned...
Now playing: The best feel good music